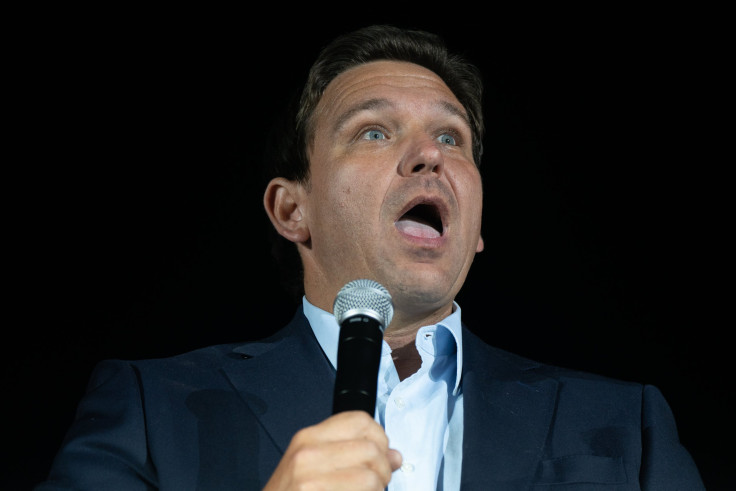 In a Memorial Day interview, Florida Governor Ron DeSantis criticized the "emphasis" on awakened "political ideologies" invading the U.S. military and vowed there would be "very big changes" if he were elected.
"I think the military that I see is different from the military I served in," DeSantis, 44, told Fox News Monday morning.
"I see a lot of emphasis now on political ideologies, things like gender pronouns. I see a lot about things like DEI [Diversity Equity and Inclusion programs], and I think that that's caused recruiting to plummet. I think it's driven off a lot of warriors and I think morale is low."
The Republican presidential contender joined the Navy in 2004 and served as a Judge Advocate General officer in Iraq and at the Guantanamo Bay, Cuba, detention facility, New York Post reported.
He served in the U.S. Navy Reserve until 2019, having been honorably discharged from active duty in 2010.
If DeSantis were elected president, he promised there would be "very big changes in the services" to "rejuvenate morale."
"I think you've got to get things re-moored to focusing on the core mission of why people want to join," he said.
"Why would you have wanted to join the Marine Corps back in the day?" he asked.
"I mean, I remember being in Iraq, and we and we were in Fallujah, and it was not going well — and yet, people were still willing to sign up knowing they'd get sent to Iraq because they believed that this was something special and I think we've lost that a little bit."
"I mean, I'm a Florida guy. I didn't have any connection in New York City, but it inspired me to join the Navy almost 20 years ago. It had a profound effect on our country," DeSantis said.
The Navy veteran added that the 9/11 attacks were what motivated him to enlist in the military, where he spent 15 years as a lieutenant, SEAL legal advisor, and reserve member.
At a ceremony in Jacksonville, Florida, the Republican observed Memorial Day later that day among hundreds of veterans.
DeSantis recently declared his intention to run for president, making an official announcement just last week.
However, he currently faces a significant gap in polling numbers, trailing more than 30 points behind the leading candidate in the Republican Party, Donald Trump.
Interestingly, DeSantis and Trump were previously allies, but now find themselves in different positions. Trump, aged 76, is seeking to serve two non-consecutive terms as president, despite facing various criminal investigations and charges that have created a whirlwind of controversy around his candidacy.
© 2023 Latin Times. All rights reserved. Do not reproduce without permission.