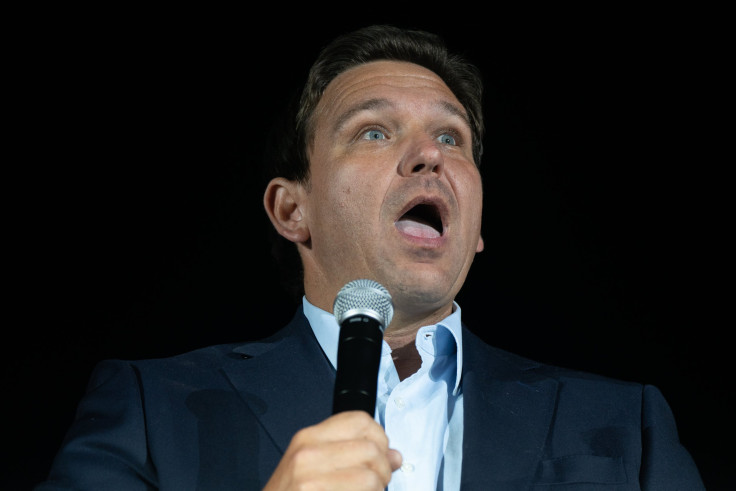 Florida Governor Ron DeSantis on Wednesday responded to former President Donald Trump's latest attack on social media.
Trump reshared a social media post that included a photo taken from a story reported in 2021 by Hill Reporter, which is a blog that is run by a Democratic super PAC.
In the blog, it was claimed that the image showed DeSantis at a party with a group of teenagers in 2002.
It sarcastically insinuated that DeSantis was grooming teenage girls, reported POLITICO.
In November, The New York Times reported that DeSantis sometimes "hung out at parties with seniors" while he was 23 years old and teaching in Georgia.
The original poster called the image "pretty gross," and Trump shared the original photo and comment on Tuesday and added, "No way?"
The following day during a press conference in Ocala, Florida, DeSantis dismissed the insult when he was asked about it.
DeSantis said that he spends his time "delivering results for the people of Florida and fighting against Joe Biden." He added that he doesn't spend his time "trying to smear other Republicans."
Trump's jab at DeSantis happened on the same day when the governor hosted a panel on defamation. He indicated that the Florida legislature should make it easier to take media outlets to court for defamation.
When he was asked how the proposed legislation might address Trump's attack, DeSantis said that he is in a different situation as a governor.
He said that it's different for the governor because he can fight back and people just know that he faces "defamatory stuff every single day I've been governor, that's just the nature of it."
But he has a platform to "fight back, and a lot of these other people that are (smaller), they don't necessarily have a platform to fight back."
Trump is running for the White House for a third time and has become increasingly critical of DeSantis. The governor is seen as a potential 2024 Republican presidential candidate as well, reported ABC News.
In November, DeSantis won reelection by nearly 20 points after which Trump said that he was an "average" governor who benefited from "great Public Relations."
DeSantis had been ignoring such comments, though he has also become more vocal in responding.
Last month, he seemingly swiped at Trump for criticizing the way he handled the COVID-19 pandemic. He suggested how, unlike Trump, he won a second term.
After being asked about Trump's comments, DeSantis had said that you take a crisis situation like COVID, the good thing about it is "when you're an elected executive, you have to make all kinds of decisions, you got to steer that ship."
He noted that the good thing is that the "people are able to render a judgment on that, whether they reelect you or not."
He shared that in his case, not only did he win reelection, but he also "won with the highest percentage of the vote that any Republican governor candidate has in the history of the state of Florida."
© 2023 Latin Times. All rights reserved. Do not reproduce without permission.