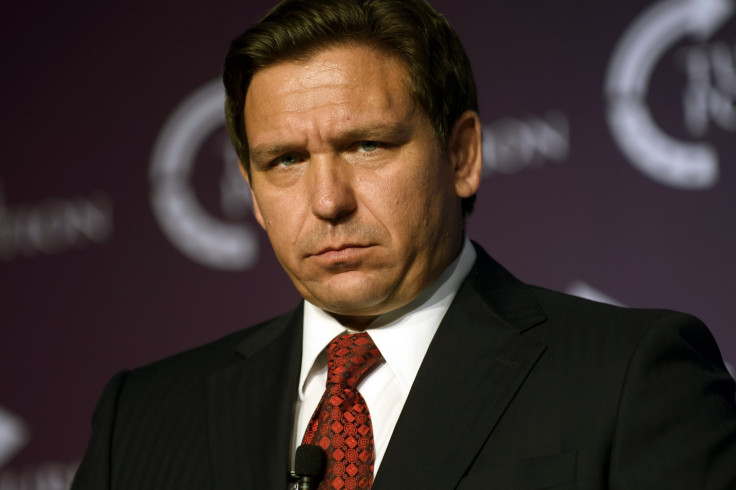 In a new video, Florida Grand Old Party Governor Ron DeSantis has previewed his border policy rollout. The clip that is about the border crisis seems to be taking aim at his White House rivals.
The new clip, which has thriller-movie kind of music, seems to be a dig at former President Donald Trump's failure to not be able to fulfill his promises regarding the border issue. It also appears to be a sharp rebuke of President Joe Biden's immigration record, reported New York Post.
DeSantis will soon release his border security policy in Eagle Pass, Texas.
The DeSantis War Room tweeted alongside the clip that the Governor will secure the border, stop the cartels, build the wall and "stop the invasion. no excuses. DeSantis will get it done."
The video features reporters and news anchors talking about the border crisis. There is also text that highlights numbers including terrorists and drug cartels detained at the border.
A newsperson is heard saying in the video that a "growing humanitarian crisis at the southern border."
Another person says in the video that what has been happening under Biden's watch is that so "many immigrants think it will be easier to enter the U.S."
Even though Trump went unmentioned by name in the video, DeSantis had previously alluded to the former President's past immigration promises. It was notably the former President's call to build a border wall.
DeSantis had previously said that leadership is not about entertainment, but about "producing results for the people you represent."
He shared that his team will finally after years of discussions and Republicans complaining about it, they will finally be the "administration to bring this border issue to a conclusion. We are going to build the border wall."
As for the Trump campaign, it boasted about his border policies. It said that DeSantis knows that "Trump's border policies kept America safe."
According to Fox News, dealing with illegal immigration is expected to be a top priority for DeSantis.
So far, he has made many anti-illegal immigration moves as governor of Florida. Earlier this year, he signed an anti-illegal immigration bill. It mandates the use of E-Verify by employers and increases penalties for people charged with human and drug smuggling. It also bars local jurisdictions from issuing IDs to illegal immigrants.
The governor had also sent illegal immigrants to Martha's Vineyard in Massachusetts. His team had also responded to a request for help from Texas Governor Greg Abbott by deploying law enforcement to the border.
© 2023 Latin Times. All rights reserved. Do not reproduce without permission.