The Cleveland Browns will miss newly-acquired quarterback Deshaun Watson for 11 games after he reached a settlement with the NFL on Thursday, Aug. 18.
This was reported by CBS Sports NFL Insiders, more than the initial six-game suspension originally handed by Judge Sue L. Robinson. Aside from that, the 26-year-old play-caller was also hit with a $5 million fine, reportedly the largest fine ever to be handed to a player in NFL history.
Moreover, Watson will have to comply with a professional treatment plan according to league commissioner Roger Goodell.
"Deshaun has committed to doing the hard work on himself that is necessary for his return to the NFL," Goodell said. "This settlement requires compliance with a professional evaluation and treatment plan, a significant fine, and a more substantial suspension," Goodell stated.
It was added in a report by ESPN that the reinstatement of Watson will depend on his compliance with the treatment plan. Should he fail to do so, this may result in a longer suspension for the 2020 NFL Passing Yards leader.
For his part, Watson was just grateful that the entire case is now behind him.
"I'm grateful that the disciplinary process has ended and extremely appreciative of the tremendous support I have received throughout my short time with the Browns organization," Watson said in a statement. "I apologize once again for any pain this situation has caused. I take accountability for the decisions I made."
With Watson out, it will be interesting to see if the Browns will try to fill in the void for their first 11 games. Jacoby Brissett is likely to be the Browns' starting QB with Josh Rosen and Joshua Dobbs also in the lineup.
In the 11-game span, Watson will miss games against the Baltimore Ravens, Cincinnati Bengals, Miami Dolphins, Buffalo Bills and the Tampa Bay Buccaneers.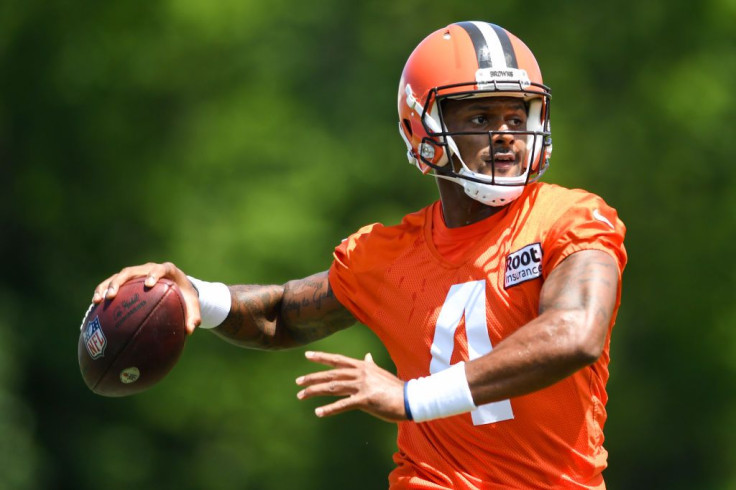 © 2023 Latin Times. All rights reserved. Do not reproduce without permission.