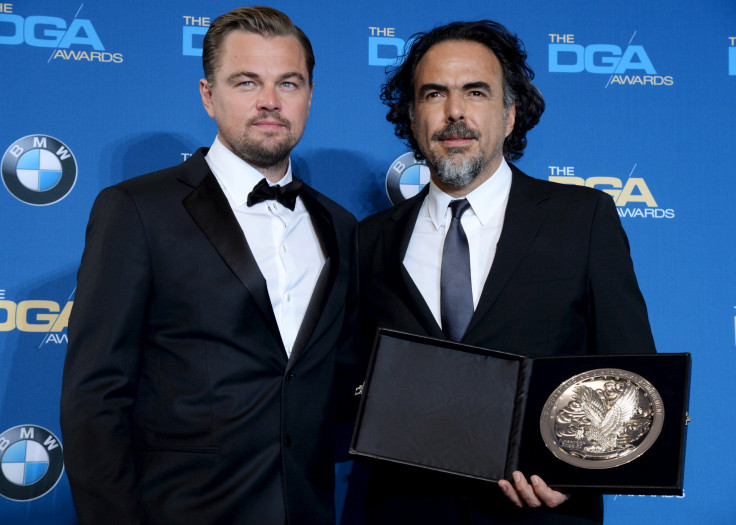 Last night the DGA hosted their 68th annual awards in Los Angeles in a non-televised ceremony hosted by Jane Lynch once again. As the Oscar race gets tighter, frontrunners for some categories continue to be unclear, since awards have gone in various directions so far. For instance, the biggest Oscar indicator for Best Picture are the PGA's which actually went to Adam McKay's "The Big Short." However, things are looking up to Iñárritu who won the top prize of the night, since there have only been seven occasions in the award's history where the DGA winner has not won Oscar for best director. In addition, this honor meant Iñárritu became the first director to ever win back-to-back DGA Awards.
Traditionally, it is last year's winner who presents the director with the big honor, but since Iñárritu also won last year for "Birdman," the award was presented to him by fellow Academy Awards winner, Tom Hooper ("The King's Speech"). Iñárritu took the stage and was very emotional during his speech where he spoke about his late father who died two years ago. "Tough men don't cry. That's what Ridley Scott said today, and he's right," he said while holding back tears. He says he probably owes this to his father who's making all of this happen: "I think he's getting some business up there to make this happen and I miss him a lot."
"This hug, this embrace you're giving to me today is going to a whole country, a whole Latin American community in this country. The people who live here contribute a lot to this country," Iñárritu concluded.
The Mexican director beat fellow nominees such as "Spotlight's" Tom McCarthy, "The Big Short's" Adam McKay, "Mad Max: Fury Road's" George Miller (who was a favorite) and "The Martian's" Ridley Scott. Chcek out the full list of winners below:
Feature Film: Alejandro González Iñárritu, "The Revenant"
Drama Series: David Nutter, "Game of Thrones"
Comedy Series: Chris Addison, "Veep"
Movies for Television and Mini Series: Dee Rees, "Bessie"

Documentary: Matthew Heineman, "Cartel Land"
Variety/Talk/News/Sports Specials: Don Roy King, "Saturday Night Live 40th Anniversary Special"
Variety/Talk/News/Sports Regularly Scheduled: Dave Diomedi, "The Tonight Show with Jimmy Fallon"
Reality Programs: Adam Vetri, "Steve Austin's Broken Skull Challenge"
Children's Programs: Kenny Ortega, "Descendants"
Commercials: Andreas Nilsson, "Biscuit Filmworks" (Emily's Oz, Comcast; Time Upon A Once, General Electric; Dad Song, Old Spice)
Lifetime Achievement (TV): Joe Pytka
Frank Capra Achievement Award: Mary Rae Thewlis
Franklin J. Schaffner Achievement Award: Tom McDermott
© 2023 Latin Times. All rights reserved. Do not reproduce without permission.