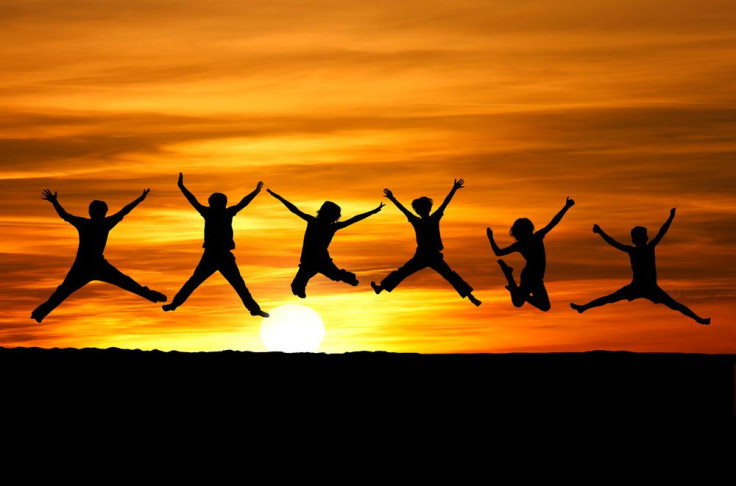 When happiness is studied, Latin America always manages to make it to the forefront. Last year, a survey by the United Nations Sustainable Development Solutions Network, titled the 2013 World Happiness Report, found that Latin America made some major improvements in the department of happiness and has the most potential to become the happiest region in the wold.
According to the findings, of the countries that have shown the most improvement in well-being, over half are Latin American. This is a significant change from the decline in happiness reported by the region from 2010-2012.
"On a regional basis, by far the largest gains in life evaluations, in terms of the prevalence and size of the increases, have been in Latin America and the Caribbean... In Latin America and the Caribbean, more than three quarters of all countries showed significant increases in average happiness, with a population weighted average increase amounting to 7.0% of the 2005-07 value," the report reads. The report based its findings from national statistics and multiple surveys, including the Gallup World Poll, to determine emotional happiness around the world and satisfaction with life around the globe.
And then there's the Gallup poll on well-being, which concluded that Paraguay is the happiest country in the world with 87 percent of its population scoring high on the index of positive emotions. In fact, the top seven countries are Latin American nations, as Paraguay is followed by Panama (86 percent), Guatemala (83 percent), Nicaragua (83 percent), Ecuador (83 percent), Costa Rica (82 percent), and Colombia (82 percent).
"We know in Latin America culturally, there are a lot of highly positive emotions," said Jon Clifton, managing director of the Gallup World Poll, to NBC News. "It is a pretty emotional culture."
With political instability and violence creating havoc in many parts of Latin America, a natural question to ask why people are so happy. While it is hard to pinpoint an exact reason, the report indicates that the decrease in corruption could be a possible reason.
"Perceptions of corruption were significantly improved (i.e. lower) in Latin America," explains the 2013 World Happiness Report. "The prevalence of generosity, which here is not adjusted for differences in income levels, grew significantly throughout Asia, Central and Eastern Europe and the CIS, and for the world as a whole, while being significantly reduced in Sub-Saharan Africa, Western Europe, Latin America and MENA. Perceived freedom to make life choices grew significantly in Sub-Saharan Africa, Southeast Asia, and Latin America, and shrank significantly in South Asia, NANZ and MENA."
But that's not to say that Latin Americans are happy throughout their whole life. Researchers from Princeton University's Woodrow Wilson School of Public and International Affairs, Stony Brook University and University College London looked at life satisfaction in older age around the world and came across some interesting observations. Specifically, older residents in Latin America reported very low rankings of life satisfaction compared with younger residents. It should be noted that the decrease in satisfaction was not as steep as was seen in other parts of the world.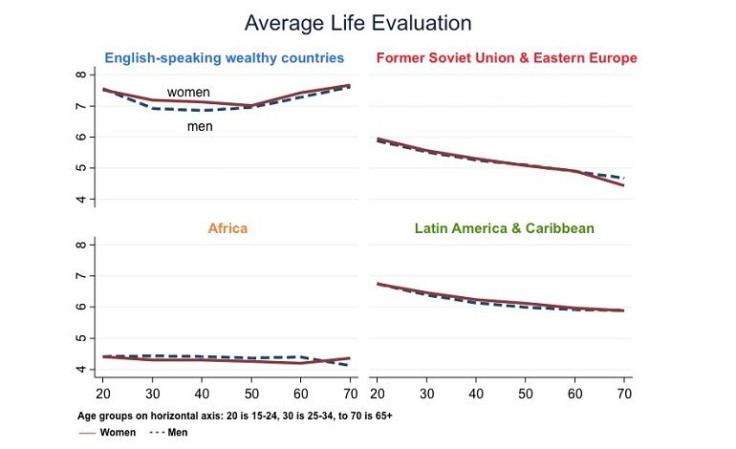 "Economic theory can predict a dip in well-being among the middle age in high-income, English-speaking countries," said co-author Angus Deaton, the Dwight D. Eisenhower Professor of Economics and International Affairs at the Wilson School, in a university release. "What is interesting is that this pattern is not universal. Other regions, like the former Soviet Union, have been affected by the collapse of communism and other systems. Such events have affected the elderly who have lost a system that, however imperfect, gave meaning to their lives, and, in some cases, their pensions and health care."
© 2023 Latin Times. All rights reserved. Do not reproduce without permission.