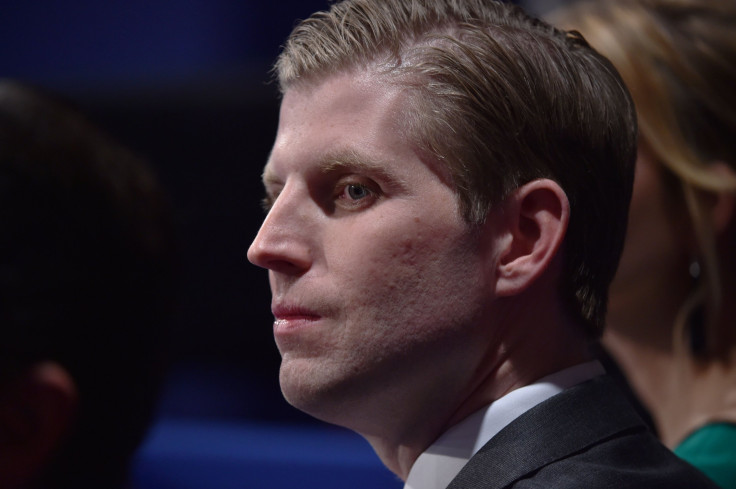 As the days get closer to the election, the Trump campaign continues to take hit after hit. During a North Carolina rally for the Republican presidential nominee, Donald Trump's son, Eric Trump posed for a photo with a young woman who is anything but a Trump supporter.
According to the Huffington Post, Eric Trump and his wife Lara, posed for a photo with a Latina woman wearing a shirt that read "Latina contra Trump." The shirt message translates to "Latina Against Trump."
While Eric and his wife clearly had no idea behind the meaning of her shirt, this move is not a good look for the Trump campaign. It is no surprise that the Latino vote is needed by both candidates to win the election. But, with his son's diregard for what the young woman's shirt read, it is as clear as day that Trump has not earned the needed support from Latinos.
"Congrats, y'all played yourselves," the shirt's wearer, 23-year-old Annie Cardelle, posted on Twitter alongside photos from the pro-Trump event in Salisbury, North Carolina.
Annie, who attended the event with her 17-year-old sister, Ceci Cardelle, said she was "shocked" that they were able to pull off the baldfaced stunt.
"Neither of us thought that we'd get a photo with him," Annie told The Huffington Post on Sunday. "I actually wore a sweater over it because I thought that otherwise we wouldn't get in."
The only person who appeared to notice her shirt, Annie said, was a reporter with the local Salisbury Post who asked her about it.
"We didn't see anyone there that was Latin American or that we thought could speak Spanish," Ceci said. "While we were surprised that no one really noticed, I really think that it stands as a testament to the lack of diversity surrounding that campaign."
The sisters who are clear supporters of Democratic presidential nominee Hilary Clinton, after originally backing Senator Bernie Sanders, wasted no time pointing out the faults in the Trump campaign.
"I think about all the undocumented people who can't vote and I think that the Hillary Clinton campaign has done a much better job on how she deals with them, talking about a path towards citizenship, Annie tells the site. "We hear what you say every day," she added, "and words matter."
© 2023 Latin Times. All rights reserved. Do not reproduce without permission.