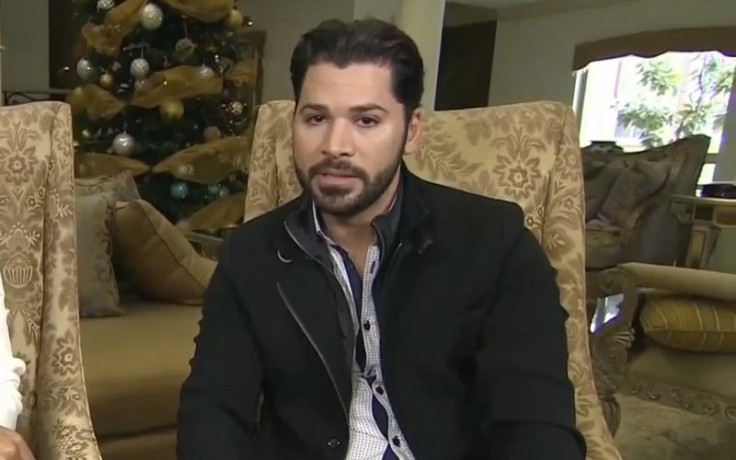 Eliseo Robles Jr. was in the hot seat on Telemundo's "Al Rojo Vivo" as he addressed the sex video leak that he starred in with tv hot Vivian Cepeda. Azucena Cierco sat down with "La Leyenda" singer to talk about the intimate clip that will now live forever on social networks and the internet porn sites. Robles said the video was done using one of Apple's tablets. "We both recorded it on a tablet, on an iPad," he said. "We didn't think about erasing it. It really was a long time ago and I didn't even remember." What was Eliseo's initial reaction to all of this? "I said to myself, 'Holy Mother!,' I don't know what is going to happen," he responded. "I felt impotence and really bad, I felt like if somebody had died and maybe something did, my intimacy was dead."
A question is still up in the air as to who leaked the video as he and his wife try to patch things up after a separation. "She [Vivian] kept it because it was her device," he added. "I am not accusing anybody and authorities are taking care of this. Via de Internet you can find out from where it was leaked and there's obviously a root to all of this. Robles stated that he has not contacted Cepeda when the video started circulating in social media. "I couldn't stop social networks," he said. "This is not the first time it happens to someone, but I wouldn't like for this to happen to someone else." Eliseo made it clear that he was not with his wife at the time the video was recorded and he did have a relationship with Vivian.
Cierco asked if it could have been Cepeda the one to have released it to the public to become famous. "I don't think so," he answered. "I understand what she is going through." The couple has been attacked and accused of using the video to gain notoriety, which Eliseo completely debunks. "I would've done it with someone else and I would've planned it better, maybe exercising more," he said jokingly. He also added that he would still record himself having sex if he was given the opportunity to go back in time. Watch the video from "Al Rojo Vivo" down below and tell us what you think!
© 2023 Latin Times. All rights reserved. Do not reproduce without permission.