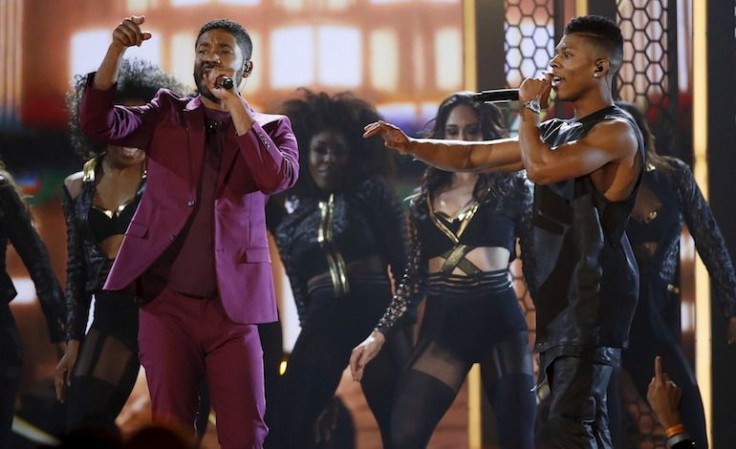 Tonight is the second season finale for Fox's hit-series "Empire" and fans are dying to know if Jamal (Jussie Smollett) is going to make it! In last week's episode "Rise By Sin," Jamal took a bullet for his father and after the episode aired, Smollett sent a few cryptic messages through Twitter hinting that his time on "Empire" is up.
In the promo trailer for the finale, we are introduced to scenes from Jamal being shot by Freda (Bre-Z) and we immediately see him rushed to the hospital where his family is gathered and looking tense. We then see a few clips of Hakeem's (Bryshere Y. Gray) wedding, Laura (Jamila Velazquez) in a beautiful wedding gown and more of Lucious (Terrence Howard) declaring his undying love for Cookie (Taraji P. Henson).
Furthermore, from a first look clip of "Past Is Prologue" Henson, Grace Gealey and Gabi Sidibe talk about Anika's threat to Empire, the wedding and the final face off that changes everything.
The synopsis for the finale "Past Is Prologue" in The Futon Critic read: "After a life-changing experience, Jamal refuses to make music until his family ends its seemingly endless cycle of violence and fighting. Meanwhile, the Feds are tailing Anika because they want to force her to testify against Lucious. In order to protect her family, Cookie organizes a meeting at Hakeem and Laura's wedding with various people from her and Lucious' past."
"Empire's" second season finale, "Past Is Prologue," will air Wednesday, May 18 at 9 p.m. EDT on Fox and will be available the next day via FOXNOW, Xfinity, iTunes, Hulu, Google Play and more. Some of these options will cost you. Episode prices range from $1.99 to $2.99.
Unfortunately Fox does not offer a live stream service on its website, but if you are truly out of option you can watch the new episode live online here, here and here.
Check out the promo trailer for "Past Is Prlogue" along with the sneak peek clip below.
© 2023 Latin Times. All rights reserved. Do not reproduce without permission.