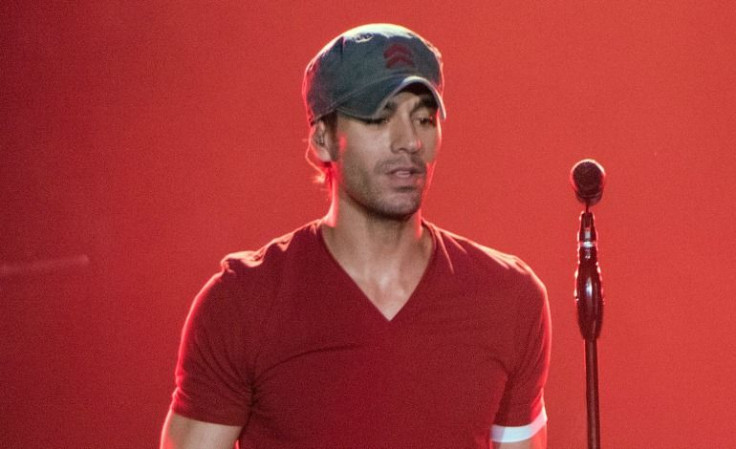 Following his single "Noche y de Dia" featuring Yandel and Juan Magan, which dropped early 2015, Enrique Iglesias returns with a promising new song titled: "Duele el Corazon."
"This song was born from an idea of one of my friends," said Iglesias in an interview with Miami's Romance 107.5 Monday. "I then worked in the studio and developed it in the studio for about eight months... which is not that much time." The Spanish singer noted that he likes to release records that he likes from the get-go. "What I look for in a song is something that animates people, something that I like," he said to radio personality Javier Romero. "If I don't like to song, I don't want to release it, because then I have to promote it and talk about it millions of times," he said, also revealing that following his instincts has sometimes worked against him.
"It's a challenge that I like, in my career I've been alive many times and dead multiple times, you know what they say... 'you're only as good as your last hit,'" he said, stating that in his nearly 25 years of trajectory he's made bad decisiones when launching a song. "I might have been very enthusiastic, but in the end they were not a hit," he said.
His new song, however, is a new stage in his life as he is releasing it under Sony Music record label after cutting ties with Universal. "It's a fusion between 'Bailando' and 'El Perdon,'" Iglesias said of "Duele El Corazon." "I was raised in Miami; therefore, I've always had the tropical urban genre close to me," he said, feeling lucky that he's been able to release songs with artists such as Juan Luis Guerra, Romeo Santos and Gente De Zona. "I've had the luck to see how these artists work and I feel very comfortable."
"Duele El Corazon," for example, features the work of Puerto Rican urban artist Wisin. Both artists previously worked together in hit singles "Lloro Por Ti" and "No Me Digas Que No."
Iglesias' new jam is part of an upcoming album he will release under his new record label, Sony Music. In 2015 it was revealed that the Spanish crooner's albums "will likely be released by Sony Music Latin in Spanish and RCA in English." The last album the Grammy-winning artist dropped under his Universal contract was "Sex and Love" in 2014, containing the smash hit single "Bailando."
Billboard reported that the singer's move is due to Sony offering "major international support." It's also "one of the biggest contracts offered to any artist in recent years in terms of advances and royalties," according to close sources.
© 2023 Latin Times. All rights reserved. Do not reproduce without permission.