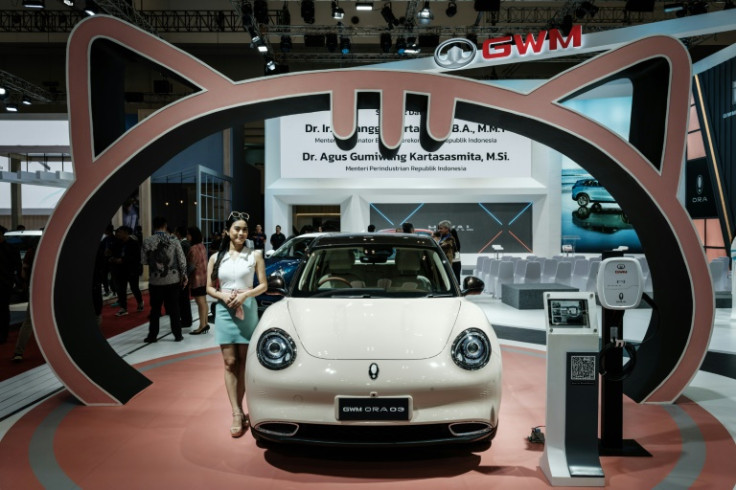 When the EU launched an investigation into Chinese electric car subsidies, Brussels wanted the world to know that it will protect the automotive sector that is the jewel in Europe's industrial crown, even if it upsets Beijing.
European Commission President Ursula von der Leyen was resolute when she announced the probe on September 13, denouncing unfair practices that undercut European competitors, but sparked an angry retort from China.
Beijing warned the investigation would harm trade ties and accused the EU of "naked protectionism", triggering fears of a trade war.
Those tensions will no doubt be there when EU trade commissioner Valdis Dombrovskis heads to China for a four-day visit starting Saturday to Shanghai, Suzhou and Beijing.
Dombrovskis has sought to mollify Beijing, insisting that Europe wants to "keep dialogue open" with China.
The EU faces an almost impossible balancing act in its relations with China, which the bloc variously describes as a partner on global issues, an economic competitor and a systemic rival.
On one hand, Brussels wants to maintain ties with Beijing to help resolve issues it believes can only be solved on a global level, such as climate change.
On the other, the EU is seeking to reduce its dependence on China, heeding lessons from its past over-reliance on Russia for fossil fuels.
Experts say this latest move demonstrates that the EU is willing to take action in line with its oft-repeated claim that it will "de-risk" but not "decouple" from China.
"This is sufficiently aggressive for it to have been carefully thought through," Elvire Fabry, a researcher at Jacques Delors Institute, told AFP.
Without presuming the probe's outcome, Fabry said she did not believe the commission would have "taken such a step without already having a solid basis", pointing to China's massive subsidies in many parts of its economy.
The driving force behind von der Leyen's announcement was the EU's bitter experience with China over solar panels.
During her speech last week, she pointed to firms pushed out by cheaper Chinese solar panels that flooded the European market in the late 2000s, while others were forced to file for bankruptcy.
The car industry is significant for Europe, providing direct and indirect jobs to around 14 million Europeans, some 6.1 percent of all EU employment.
China's carmakers are a growing threat, and this year it became the world's largest exporter of cars, overtaking Japan for the first time.
The share of Chinese electric car brands in Europe is surging, reaching 6.1 percent between January and July this year, according to automotive data company Jato Dynamics, rising from a low base of 0.5 percent in 2019.
China's success is in large part due to its early investment in batteries and its domination of critical raw materials used in much clean tech.
The EU is also rushing to pass a law to move away from relying on China for key materials such as lithium as part of a broader approach to bring more production to Europe and diversify its trading partners.
Not everyone is convinced that China is guilty of unfair practices.
Ferdinand Dudenhoeffer, an expert at the Center Automotive Research in Germany, accused von der Leyen of making "unfounded" claims, stressing that China's success was due to "long-term" thinking and a "very strong" focus on developing electric cars.
France pushed for a probe because "the French car industry is almost invisible in China", Dudenhoeffer said, accusing Paris of seeking to protect its manufacturers at the expense of Germany's carmakers, since 40 percent of their sales are in China.
The EU will decide over the next 13 months whether to slap tariffs on Chinese electric cars above the standard 10 percent EU rate if it concludes there are unfair practices.
"If everything becomes very confrontational and tariffs, etc are applied immediately, that would be something to which China could react and therefore trade links between Europe and China could be put at stake," said Simone Tagliapietra, a senior fellow at the Bruegel think tank.
But if Europe manages this in a more cooperative manner, "this wouldn't necessarily harm European industry", he added.
According to Bruegel, the commission has launched 342 subsidy investigations since 2008 against imports from China, of which 101 led to no countervailing duties.
"It is not to be taken for granted that an investigation will actually result in a procedure," Tagliapietra said.