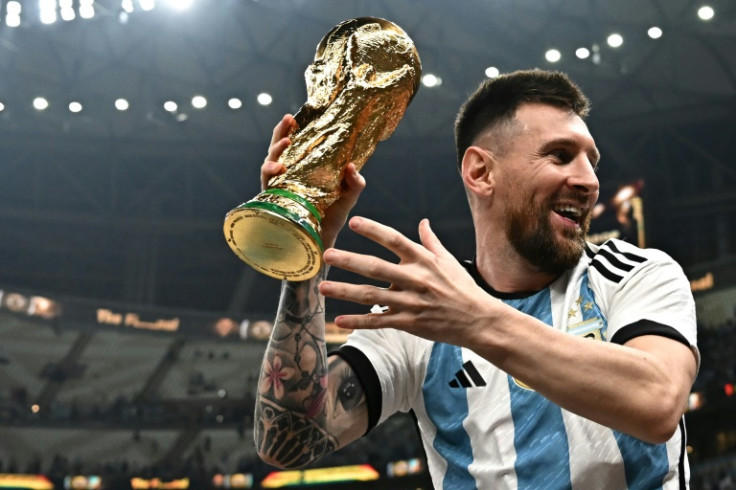 Morocco, Portugal and Spain will be joint hosts for the 2030 World Cup but games will also be played in Uruguay, Argentina and Paraguay as the footballing showpiece celebrates its centenary, FIFA announced on Wednesday.
FIFA said in a statement that the matches in South America -- one each in Montevideo, Buenos Aires and Asuncion -- were part of the celebration to mark 100 years since the first World Cup in Uruguay.
The announcement puts an end to competition between two major bids, one led by Spain and Portugal and the other from Argentina, Uruguay, Chile and Paraguay.
"In a divided world, FIFA and football are uniting," said FIFA President Gianni Infantino.
"The FIFA Council, representing the entire world of football, unanimously agreed to celebrate the centenary of the FIFA World Cup, whose first edition was played in Uruguay in 1930, in the most appropriate way."
World football's governing body said the hosts must still be officially rubber-stamped by the FIFA Congress next year.
However, Wednesday's announcement means the way seems clear for this unprecedented intercontinental format, which promises complex political and logistical challenges and raises further questions about the environmental impact of major sporting events.
The move drew immediate criticism from the influential lobby group Football Supporters Europe, who described it as "the end of the World Cup as we know it".
"FIFA continues its cycle of destruction against the greatest tournament on earth," it said on X, formerly Twitter, adding that the decision was "horrendous for supporters" and "disregards the environment".
At one stage, Spain and Portugal had included Ukraine in their bid, saying they wanted to send "a message of solidarity and hope" and pay tribute to the "tenacity and resilience" of a country invaded by Russia in February 2022.
Morocco, a five-time unsuccessful candidate to host the tournament, joined them in mid-March.
The agreement between European body UEFA and its African (CAF) and South American (CONMEBOL) counterparts confirms the withdrawal of Ukraine and also that of the South American countries, in exchange for a symbolic concession.
FIFA said Spain, Portugal and Morocco would all qualify automatically for the competition.
"I am convinced that with Morocco and Portugal we will organise the best World Cup in history," said Pedro Rocha, the interim president of the Spanish Football Federation (RFEF), in a joint statement issued with those of Morocco and Portugal.
Morocco, which was last week named as host for the 2025 Africa Cup of Nations, will become the second African country to host the World Cup after South Africa in 2010.
According to FIFA, a "centenary ceremony" will be held "at the stadium where it all began", in Montevideo's Estadio Centenario in 1930, when the event brought together 13 teams in a single host city -- compared with 32 for the 2022 World Cup in Qatar and 48 from the 2026 World Cup in North America onwards.
"We could not let this historic opportunity pass us by," said Alejandro Dominguez, the president of CONMEBOL, as he indicated that the centenary tournament would start in Montevideo.
"We are honouring the memory of those who came before us," he added.
However, a source within FIFA said the traditional opening ceremony would still take place in one of the official host nations.
FIFA also said it was inviting bids from the Asian and Oceanian continental confederations for the 2034 World Cup.
That appears to open the door for Saudi Arabia, which confirmed it was a candidate.
Referring to that, Football Supporters Europe said FIFA was rolling out "the red carpet to a host for 2034 with an appalling human rights record".
In addition to its announcements related to the World Cup, FIFA said it was lifting its ban on Russian under-17 teams competing internationally. That follows UEFA's decision last week to lift a ban on Russia's youth sides.
© 2023 Latin Times. All rights reserved. Do not reproduce without permission.