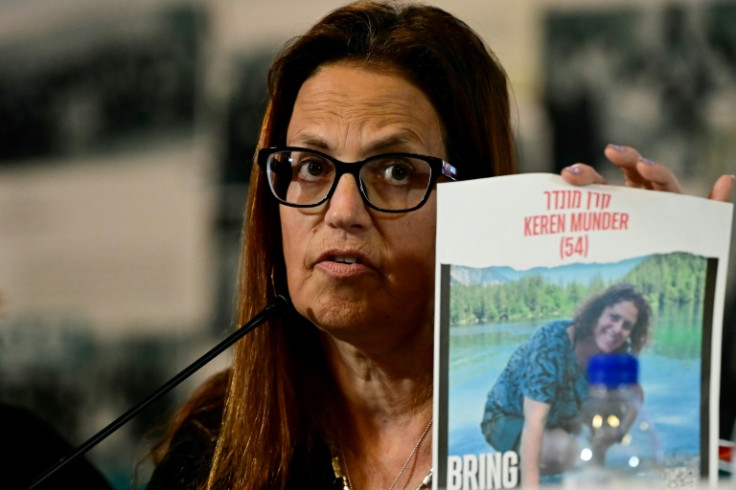 Families of Israeli hostages held by Hamas, the Islamist group which carried out brutal attacks on Israel on October 7, called Thursday for access for the Red Cross to treat their relatives.
"We want to see where the Red Cross is. We know the Red Cross is in Gaza, so we want the world to tell the Red Cross to go and see what is going on with our families," said Merav Mor Raviv, whose uncle and aunt are detained in Gaza by Hamas along with their daughter and grandson.
Mor Raviv spoke at a media briefing in a Madrid Jewish centre with four other relatives of hostages kidnapped during the Hamas attack.
"Hamas is not letting (the Red Cross) see our families. That's why we need your help," said Maayan Segal-Koren, the daughter of one of the hostages.
The hostages' relatives are undertaking a tour of European cities, a civil society initiative in cooperation with Israel's Ministry of Foreign Affairs, they said at the start of the media briefing.
After Paris and Madrid, they will also speak in Brussels, Copenhagen, The Hague, Vienna, Berlin and Rome, they said.
Naama Weinberg, a cousin of hostage Itai, called on the Spanish government to do "whatever they can to talk to the countries that can talk with Hamas".
The relatives declined to comment on the management of the crisis by the government of Benjamin Netanyahu, nor on the possible military offensive on the ground and its possible consequences for hostages.
"We are not the ones that have to give the solutions," said Mor Raviv when asked about the issue.
More than 1,400 people were killed on Israeli territory on October 7 by Hamas militants, according to Israeli authorities.
In the Gaza Strip, more than 7,000 people, including nearly 3,000 children, have been killed in the Israeli army's relentless retaliatory bombing, the health ministry of the Hamas-controlled Palestinian territory said.
The military wing of Hamas estimated on Thursday that "almost 50" Israelis held hostage in the Gaza Strip had been killed by Israeli strikes, a claim that could not be independently verified.
© 2023 Latin Times. All rights reserved. Do not reproduce without permission.