With Father's Day quickly approaching, there's no better way to celebrate him than by making him and the family a fantastic meal. It may include appetizers, starters, salads, main (possibly grilled) dishes, and of course, a celebratory dessert; it all depends on the size of your party too. The good thing is you can't really go wrong with pastas, either as a side or a main dish with added meat or veggies and we have just the recipes to shine in the kitchen while getting creative. Check them out and enjoy!
Food & Wine's Spaghetti with Tomatoes, Basil, Olives, and Fresh Mozzarella: Pastas are universal crowd pleasers, so it's hard to go wrong with this simple-yet-delicious dish. Everyone in your family will be asking for more! Here's the recipe.
Martha Stewart's Spaghetti And Meatballs: This dish is not only a classic but a big crowd pleaser! The good thing is you can prep the meatballs in advance and then make regular pasta in the moment. Don't forget the red wine and, presto!
Linguini with Asparagus and Chipotle Aioli: Don't let the word aioli intimidate you; it's not only super easy to make but it's absolutely delicious. You can add a protein like grilled salmon, shrimp or chicken if you want more substance. Check this recipe out here.
Ina Garten's Linguine with Shrimp Scampi: An even fancier way to to bring a pasta dish to your table is shrimp scampi. You can make this dish as spicy as you think Dad can handle it and even grill the shrimp for added flavor! Try it here.
All Recipes' Chipotle Mac & Cheese: Add a touch of smoky, spicy flavor to your traditional cheesy pasta, to bring it to the next level. This too can be served as a side or a main dish… you can even add veggies or chicken if you like. Check it out!
Martha Stewart's Garden Linguine with Ricotta: Like we say, pasta is a no brainer for family celebrations and I happen to find that sometimes simpler is better, so toss these ingredients together and voila! A beautiful bright pasta dish.
Now, if you really want to get creative, grilled pasta is just as tasty! It's a fun way to bring out a smoky flavor in pasta and a sure way to impress dad. In case your dad's a burger fan, you can also try out a new pasta food collision – spaghetti sliders.
Grilled Spaghetti with a Grilled Chicken and Vegetable Skewer and a Simple Garlic and Herb Sauce: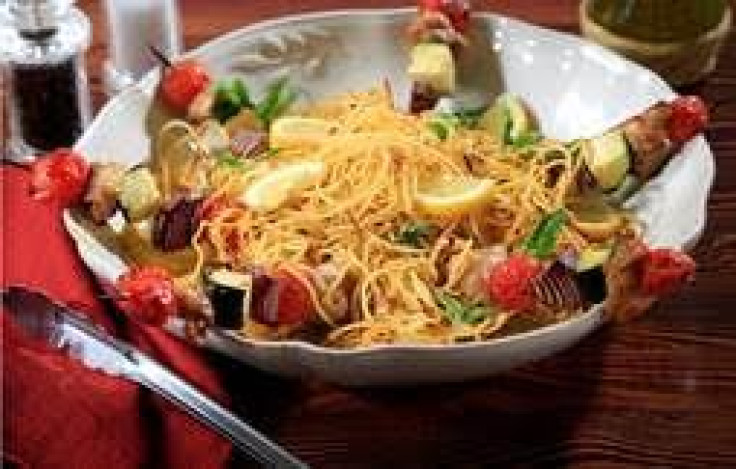 Ingredients
1 box thick spaghetti
8 6-inch skewers, soaked in water
1 medium package small button mushrooms
½ pound chicken thighs, diced into 1-inch pieces
½ large red onion, diced into 1-inch pieces
1 zucchini, sliced in ½-inch rounds
1 pint cherry tomatoes
5 tablespoons extra virgin olive oil
2 cloves garlic, chopped
1 tablespoon fresh basil, chopped
1 tablespoon fresh oregano, chopped
1 lemon, juiced
salt and black pepper, to taste
Directions
1. Bring a large pot of water to a boil; season with salt
2. Build the skewers by adding 1 mushroom, then 1 piece of chicken, then 1 red onion chunk, then 1 zucchini round, then 1 more piece of chicken and 1 cherry tomato; continue in this fashion until all the skewers are completely filled
3. Place the completed skewers in a shallow wide container and set aside
4. Cook pasta 1 minute less than package directions
5. Toss with 1 tablespoon olive oil and set aside to cool down
6. Heat grill to high
7. Season the skewers with salt and black pepper, then drizzle on 2 tablespoons of olive oil
8. Cook the skewers on the grill for 4 to 5 minutes; remove them from the heat and set aside when cooked
9. Add the remaining olive oil and the garlic to a small skillet and heat it over the grill for 1 minute
10. Add the pasta to a medium-size grill basket and place it on the grill
11. Cook about 5 minutes until the pasta turns golden and starts crackling; remove from heat
12. Toss pasta with the olive oil and garlic mixture, basil, and oregano
13. Top with the grilled skewers and drizzle with lemon juice
Thin Spaghetti Salmon Sliders with Fresh Tomatoes, Light Mayo and Fresh Arugula: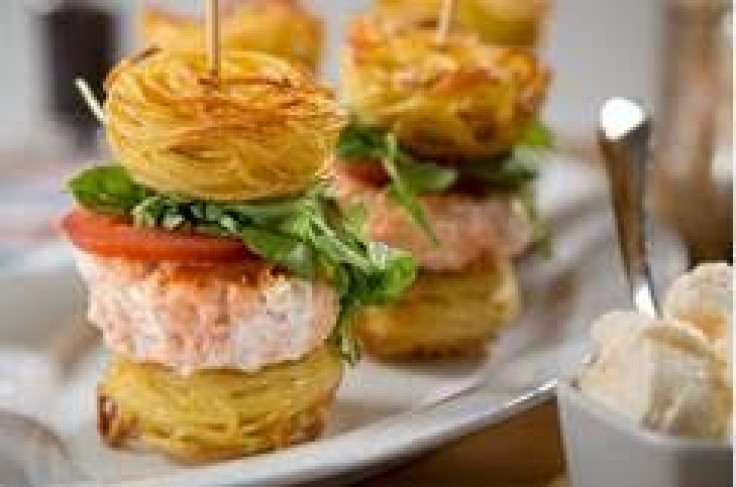 MIngredients
½ box thin spaghetti
1 egg
2 tablespoons extra virgin olive oil
2 tablespoons Parmigiano cheese, grated
1 pound salmon, ground
1 cup arugula, packed
6 slices plum tomato
6 tablespoons light mayonnaise
salt and black pepper, to taste
Directions
1. Bring a large pot of water to a boil; season with salt
2. Cook pasta according to package directions; drain and let cool for 5 minutes
3. Mix egg, olive oil, and cheese
4. Stir egg mixture into pasta
5. Divide pasta into a 12-well greased muffin pan
6. Bake at 400°F for about 5 minutes; turn out pasta and place upside-down on a greased cookie sheet. 7. Bake an additional 5 minutes; set aside to cool
8. Season ground salmon with salt and pepper; form into sliders about the size of the muffin pan openings
9. Cook on a nonstick pan over medium heat for 5 minutes on each side
10. Build sliders using the pasta as buns, topped with mayonnaise, a salmon patty, arugula, and tomato; serve
© 2023 Latin Times. All rights reserved. Do not reproduce without permission.