An alleged commander of the Jan. 6 riot had a completely completed LEGO set replica of the United States Capitol building taken by the Federal Bureau of Investigation (FBI).
New York Post reported FBI agents seized the LEGO set from Robert Morss, 27, of Pennsylvania.
Despite the FBI seizing a fully built LEGO set of the United States Capitol building, Insider said how Morss used the items as a teaching tool or to plot the disturbance remains unclear.
Officers arrested Robert Morss on the day of the incident. He is facing four charges of breaking into the Capitol building, entering through a shattered window, and assembling a shield wall of rioters against law enforcement officers.
Aside from the LEGO set, authorities seized a notepad following his detention that featured instructions on how to form a "hometown militia," which included "ambush" and "war drills," among other things. Authorities also discovered firearms, including a shotgun, a handgun, and a rifle.
Officers uncovered things in Morss' home that he transported to the Capitol, including a neck gaiter, military uniform, tourniquet, and a "Don't step on Me" flag, according to a DOJ filing reported by The Insider.
Morss was said to be wearing "tactical gear" and a "MAGA" hat when leading insurrectionists who attempted to enter the Capitol's lower west terrace during the Capitol riot.
Prosecutors said in court filings that Robert Morss pulled a shield from a Metropolitan Police Department law enforcement officer at one point.
On Tuesday, July 6, the Department of Justice stated that at least 535 suspects had been arrested in nearly all 50 states in connection with the Capitol incident through the U.S. Attorney's Office in the District of Columbia.
The figure published included people charged in both the District and Superior Courts, according to the office. According to the DOJ, at least 165 people were charged with assaulting or hindering officers or employees, with 50 of them using hazardous weapons against them.
The Hill said officials charged at least 235 people for obstructing, influencing, or impeding an official proceeding or attempting to do so.
In the meantime, nearly 495 people have been accused of breaking into a restricted federal building. Approximately ten persons have pled guilty to various federal offenses thus far.
"The FBI continues to request the public's assistance in identifying individuals sought in connection to the January 6th attack," said the Attorney's Office as they acknowledged the help of the public, who provided more than 200,000 digital media tips.
Aside from the arrest, the DOJ stated that the Jan. 6 insurgency damaged the Capitol building to the tune of $1.5 million.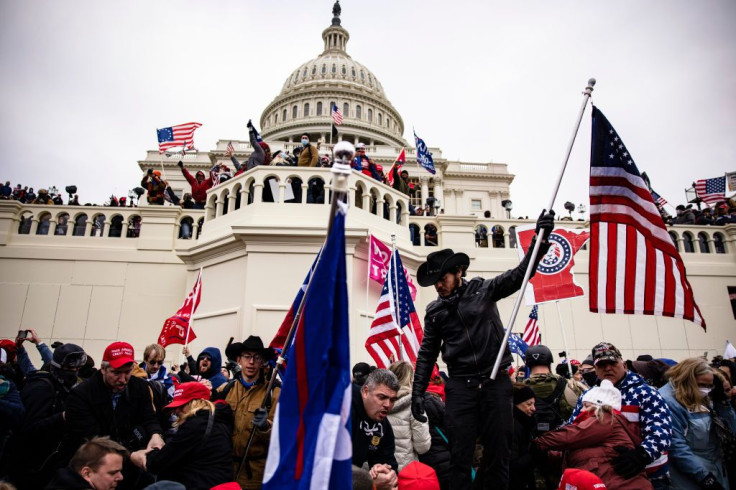 © 2023 Latin Times. All rights reserved. Do not reproduce without permission.