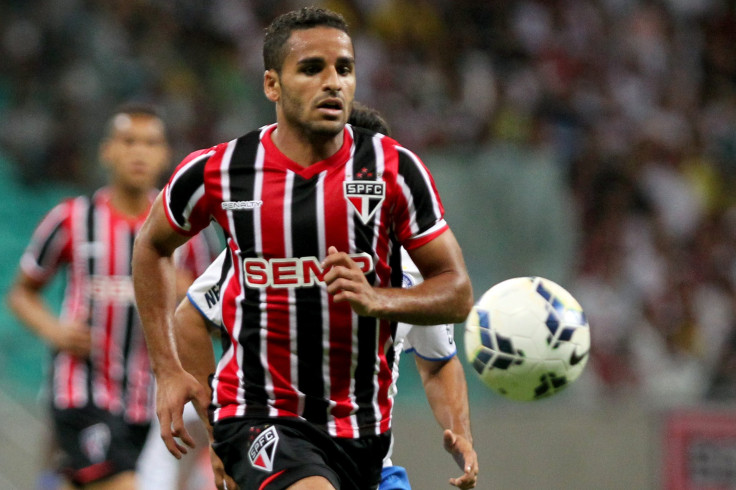 Before FC Barcelona's appeal against their transfer ban was rejected last Wednesday by the Court of Arbitration for Sport (CAS), Barca had apparently agreed to sign Sao Paulo defender, Douglas. Before FIFA's ban was handed down in April of this year, Barcelona had a plan in place for Douglas. Barcelona would make a move to sign the 24 year-old center back only to loan him back to Sao Paolo in order for him to grow as a player before eventually playing for the Catalan giants in 2015.
However, now that the CAS has upheld the ban, Barcelona is unable to sign or transfer any new players for two transfer windows. The ban starts on January 2015, and will end in January of 2016. Due to the ban, Barcelona is unable to loan Douglas back to Sao Paolo and if they want to sign him, it's now or never. If Barca was unable to sign Douglas, he would remain with Sao Paolo until 2016 or be transferred to another team.
According to Football Espana on Sunday, the official signing has been confirmed and he will be introduced in the next 48 hours. With one week remaining in the transfer window, it appears likely that Douglas will be the last new signing for FC Barcelona until 2016 although they could continue to add more pieces if they can reach an agreement.
"We have everything resolved with Douglas, but no contracts have been signed yet," said Vice-president Gil Guerreiro on Friday. "There is a small problem now that we're trying to solve. We asked Barcelona to loan Douglas back to us for one year. But with their FIFA sanction, they can't. Now our lawyers are studying the situation to see what can be done. But the deal is done, Douglas will be a Barcelona player."
If Douglas is indeed the last player that FC Barcelona signs until 2016, they appear to have made enough moves this summer to strengthen their team for the next year or more. Currently, with the addition of Luis Suarez last month from Liverpool, Thomas Vermaelen from Arsenal, French defender Jeremy Mathieu and Chilean goalkeeper Claudio Bravo, the starting XI is arguably the best in the world and they still have a core of talented young players that will be ready for significant action in the next couple years.
Barcelona was handed down the punishment in April of this year because FIFA, the sport's global governing body ruled that Barcelona had breached existing rules that related to the transfers of players who were under the age of 18 years old. After the appeal was rejected and the ban upheld, FIFA released the following statement:
"FC Barcelona is to serve a transfer ban which will see the club prevented from registering any players at both national and international levels for two complete and consecutive transfer periods, starting with the next registration period (January 2015). Barcelona has also been ordered to pay a fine of $450,000 Swiss francs and been given a period of 90 days from today in which to regularize the situation of all minor players concerned."
© 2023 Latin Times. All rights reserved. Do not reproduce without permission.