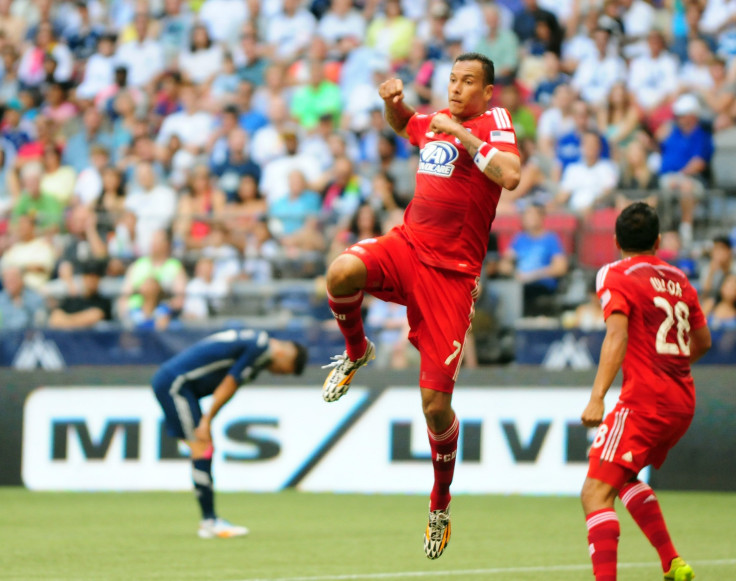 DALLAS, Texas – Landon Donovan returned to the Galaxy on Sunday, less than 48 hours after playing in his emotional final game for the United States men's national team. However, MLS MVP-candidate, Robbie Keane, was unable to return after playing for his native, Republic of Ireland, over the weekend, and the Galaxy wasted a huge opportunity to secure the Supporters' Shield with a 2-1 loss to FC Dallas.
Cameras flashed all night as Donovan made his final regular season appearance at Toyota Stadium in Dallas. Thanks to Keane's backup, Stefan Ishizaki, the Galaxy jumped out to an early 1-0 lead after a first half goal. However, the Galaxy would be unable to hang on to the lead and surrendered two second half goals to lose the match.
Both teams desperately needed the victory, albeit for different reasons. The Galaxy were looking to capitalize off of the Seattle Sounders loss to Vancouver a day earlier 1-0. Seattle and Los Angeles are now tied for first place in the MLS Western Conference and the coveted Supporters' Shield. With the victory, FC Dallas clinched a playoff berth for the first time in two years.
The undermanned Galaxy substituted Dan Gargan in the 57th minute to try and add an influx of defense in order to hang on to their 1-0 lead. Unfortunately, Gargan was injured in the 86th minute and had to leave the pitch just seconds before FC Dallas scored the game-winner. As Gargan was on the pitch struggling to get up, Dallas threw the ball in and shot from the right hand side of the penalty area which was punched out by Galaxy keeper, Jaime Penedo. Unfortunately for Penedo, he punched it right to Fabian Castillo who headed the ball into the wide open net to give FC Dallas the 2-1 lead.
The Galaxy and The Sounders will now go head-to-head in the final two games of the season to decide who will take home the Supporters' Shield and home field throughout the MLS Cup playoffs. Game one will be in Los Angeles next Sunday, while the second and final match of the season will be in Seattle on Saturday, October 25th.
© 2023 Latin Times. All rights reserved. Do not reproduce without permission.