Famous YouTube celebrity Jake Paul and American undefeated boxer Floyd Mayweather Jr. were both seen in a heated exchange after Paul had allegedly pissed off the boxing superstar.
Paul, 28, in the middle of his first encounter and altercation with Mayweather Jr., provoked the boxing Hall of Famer by stealing his white baseball cap, USA Today reported.
The undefeated champion was confronted by Paul after a promotional news conference at Hard Rock Stadium in Miami. The event was to promote the boxing match between Mayweather Jr. and Logan Paul, Jake's older brother, but the younger Paul almost had an exchange of fists with the professional boxer.
Mayweather Jr., 44, immediately rushed toward Paul after being disrespected by the celebrity boxer and every heated action was captured by a handful of cameras set up by the reporters for the news conference. The two were separated several times but the explicit verbal exchange between the two still went on.
Paul allegedly planned the taunt over the multi-division boxing champion. He also said using his Twitter account that he stole the hat because he believed that Mayweather Jr. "steals people's money with boring fights."
In an exhibition boxing match scheduled on Sunday, June 6, the boxing legend will face Paul's older brother Logan Paul who was also a famous YouTuber.
Meanwhile, Mayweather Jr. called the Paul brothers "fake fighters," according to ESPN. "I don't have to talk about what I'm going to do. The world knows what I'm going to do," Mayweather said and offered to fight both of them on the same night," he said.
The Paul brothers initially got into the boxing scene when both of them had faced other fellow YouTubers on an amateur boxing bout back in 2018. In the following years, the younger Paul triumphed in several exhibition boxing matches, one of them against a former NBA player, and the most recent one against a retired Mixed Martial Arts (MMA) fighter.
Floyd "Pretty Boy" Mayweather Jr. on the other hand is a former Olympian and professional boxer. He has an iconic 50 wins "with no loses" in his professional boxing career before being involved in these "hyped" exhibition matches.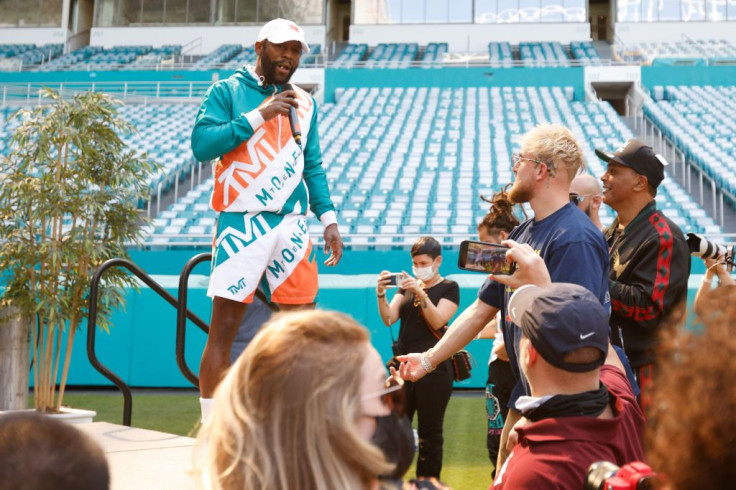 © 2023 Latin Times. All rights reserved. Do not reproduce without permission.