Former Colombian President Alvaro Uribe has contracted the new coronavirus. Senator and spokesman Gabriel Velasco broke the news on Wednesday.
In his announcement, Velasco said Uribe's state of health was optimal. The announcement came one day after the former president had received a house arrest order from the Supreme Court over his protracted witness tampering case.
"President Alvaro Uribe has tested positive for COVID-19," said Velasco. "However, his state of health is optimal, he has not presented any major symptoms, or any respiratory difficulties," he added.
The witness tampering case involving Uribe can be traced back to 2012, when the former president accused opposition congressman Ivan Cepeda of orchestrating an effort to tie him to far-right militant groups. The allegation prompted an investigation of the two politicians.
While the Supreme Court cleared Cepeda in 2018, the court has continued investigating Uribe for similar tampering practices. When the court issued the house arrest order on Tuesday, Uribe once again denied the accusations against him and took to Twitter to share how he felt about the order.
According to Uribe, the house arrest "causes huge sadness to my wife, my family and to Colombians who still believe that I have done something good for my country." Shortly after his house arrest announcement, supporters of Uribe flooded the streets of Bolgota.
Uribe presided over Colombia at a time when the country was beset with extreme violence. His first year in office followed decades of violence led by narco-guerillas and a failed peace process between the Colombian government and the FARC guerilla group.
Although Uribe was considered a divisive political figure back then, he earned the respect of many Colombians thanks to his efforts in restoring the country's economy and sense of security. He was known for his tough hand approach with the leftists and unprecedented tactics to restore peace in the country.
In a Twitter post on Tuesday, Colombian President Ivan Duque expressed his support for the former president and maintained that Uribe was innocent. "I am and will always be a believer in the innocence and honor of someone who has earned a place in the history of Colombia through his example," he said.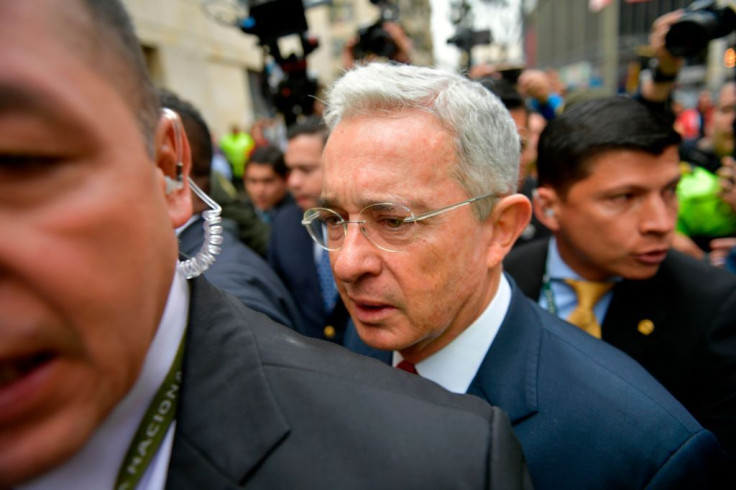 © 2023 Latin Times. All rights reserved. Do not reproduce without permission.