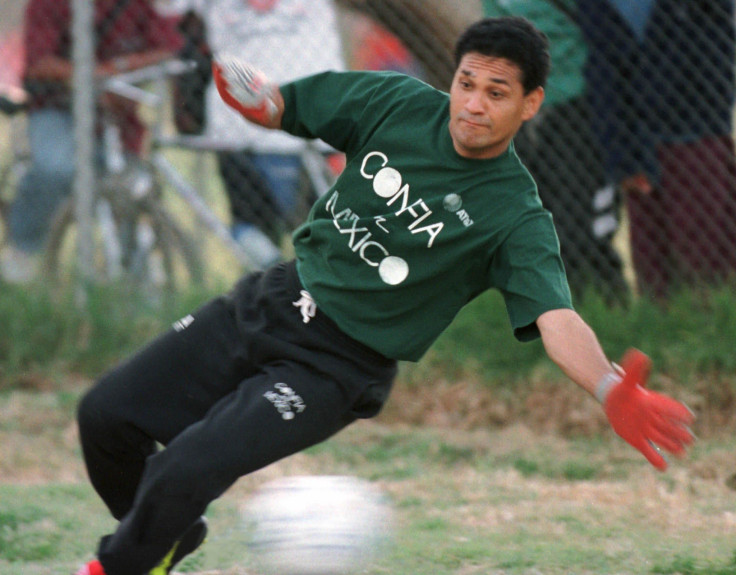 Mexico advanced out of Group play and into the quarterfinals of the 2015 Gold Cup where they will collide with Costa Rica on Sunday at MetLife Stadium in New Jersey.
Despite struggling through Group C with one win and two draws, Miguel Herrera's men are still on a collision course with the United States to lift the trophy later this month.
Former El Tri goalkeeper Adolfo Rios sat down with Latin Times to discuss all things soccer and the Mexican National Team's chances of dethroning the Stars and Stripes as CONCACAF Champions.
The 48-year-old keeper is now a spokesman for AllState insurance, the official sponsor of El Tri. Rios is the official protector of the 2015 CONCACAF Gold Cup Trophy and has been on a whirlwind tour across the United States with the hardware as they meet and greet with fans.
Rios played for Mexico from 1988-2003, and played for Liga MX clubs Pumas, Veracruz, Necaxa and Club America from 1985 to 2004.
Latin Times: Mexico won against Cuba 6-0 and tied Guatemala and Trinidad and Tobago, respectively. draw Adolfo can you predict Mexico's future in the remainder of the tournament.
Adolfo Rios: Well, all games should be played, and Trinidad and Tobago started this tournament winning against Guatemala, which it really surprised me, let me tell you; however every match is different each other. As you can see Guatemala didn't face Mexico same way they did against Trinidad and Tobago, but I am sure Trinidad and Tobago will do it against Mexico as they defeat Guatemala. Mexico thinks they are weak rivals but they should respect and just play, but I don't think they will complicated Mexico to get to the next step.
LT: Can you talk about the clinics that you are imparting along with Allstate Insurance?
AR: This project I've been doing in EU with Allstate is really important as Allstate is worry about family values. The motivation about this practice is to find good youth players that really want to improve as soccer players. Allstate is pursuing Latin community to get the dream come true. So, I as former player for Mexico national team support them with the unique purpose to teach them good techniques and tips so they may be one day can be part of the US national team but with Latin mentality.
LT: Can you explain us how clinics work?
AR: We have two kinds of clinics, one is for general soccer practice and one is exclusive for goalkeepers. I've been done this in Mexico as well; however, during this tournament I am doing it exclusively for Allstate. The principal objective is that Mexicans families and Latins in general in the US, principally teens who are growing with a dream to become professional players have more possibilities to success in any sports they want to. Also to help youth keep away from drugs and bad vicious. This is the principal motivation for me to being part of his project.
LT: Can you tell us which States are you imparting this clinics?
AR: We are imparting those clinics where Mexico National team will be playing for Gold Cup 2015. Every clinic is a surprise. The kids who attend their practices normally do not know what will happen there. They receive not only gifs from Allstate to do the practice but also they find out that I, Adolfo Rios will be showing them some techniques and good tips so they can improve and learn how to protect themselves during a game. The next clinic will be Charlotte where Mexico will face Trinidad and Tobago.
© 2023 Latin Times. All rights reserved. Do not reproduce without permission.