Honduras former president, Juan Orlando Hernandez will be extradited to the United States next week to face drug trafficking and weapons charges, as confirmed by the country's security minister.
"The extradition will happen next week," Security Minister Ruben Sabillon told news channel HCH on Wednesday. "We have to get in touch with US authorities for his surrender."
According to the Honduran Supreme Court, it gathered a unanimous vote in favor of extradition on the first charge "regarding importing a controlled substance to the United States." The majority voted to extradite him on two charges related to firearms possession.
Hernandez, Honduras president from 2014 until January was arrested in the capital Tegucigalpa on Feb. 15 after the U.S. prosecutors accused him of being involved in a drug trafficking ring with his younger brother, Tony Hernandez – currently serving a life sentence in a U.S. federal prison for drug trafficking.
Hernandez was said to have facilitated the smuggling of some 500 tonnes of drugs – mainly from Colombia and Venezuela to the U.S. via Honduras since 2004, working with illegal personalities in exchange for millions of dollars in bribes.
Hernandez faces three charges in a New York court; conspiracy to import a controlled substance into the U.S.; using or carrying firearms including machine guns; and conspiracy to use or carry firearms. Hernandez has denied all the allegations, claiming that his enemies are trying to get back at him and incriminate him in revenge for his administration's tough drug policies.
In a letter published when the Supreme Court issued its decision in March, Hernandez maintained that he is innocent and said he is the "victim of revenge and conspiracy". "Three life sentences could make me a living dead," his letter read.
On March 28, the Honduran Supreme Court is said to have rejected an appeal from Hernandez to stop the extradition. The 53-year-old politician lost his immunity after handing the presidential power over to Xiomara Castro, the first female president of the country, in January. He will reportedly remain in custody until the Honduran authorities coordinate with authorized agents to transfer him to the U.S.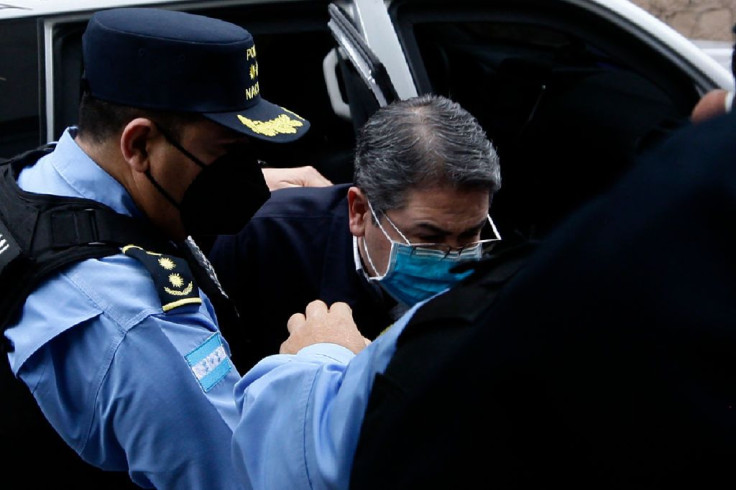 © 2023 Latin Times. All rights reserved. Do not reproduce without permission.