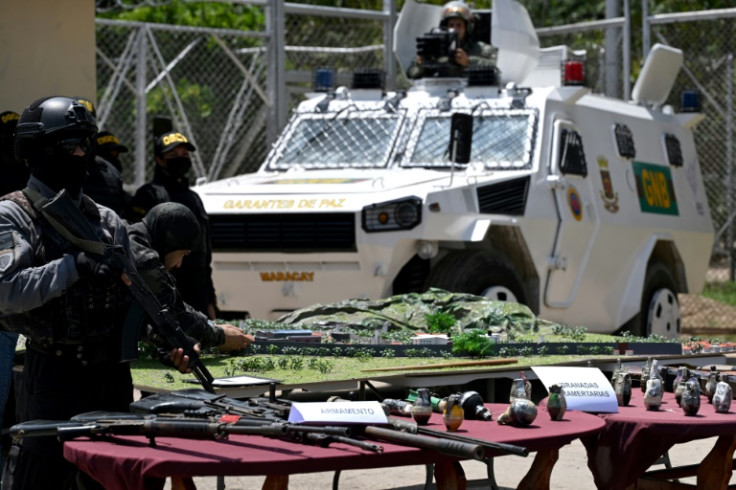 Gang leaders who ruled a prison in Venezuela that was stormed by more than 11,000 soldiers and police had fled the country a week before the operation, a prisoners' rights group said Friday.
The bosses of the Tren de Aragua gang, which used Tocoron prison as a base for their international crime operations, escaped after apparently being tipped off about the huge operation, which had been planned for a year.
On Wednesday, a vast force of security personnel, backed by armored vehicles, took back control of the notorious penitentiary that had been run by the inmates.
They seized Bitcoin mining machines, rocket launchers and machine guns with thousands of belts of ammunition in the prison -- which the gang had kitted out with a pool, a nightclub and even a zoo.
One soldier was killed in the operation.
The prison gang leaders, known as "pranes," had negotiated with authorities to leave the facility and "had left the country a week ago," said the Venezuelan Prison Observatory (OVV), a group that follows developments in the country's notoriously dangerous detention centers.
The OVV did not specify which countries they went to, accusing authorities of "opacity."
There was "no trace" of gang leader Hector Rusthenford Guerrero Flores, nor his lieutenants, the group said.
Meanwhile, other inmates of the now-emptied Tocoron prison were being moved to other detention centers.
The Tren de Aragua, which reportedly numbers some 5,000 criminals, emerged in 2014, specializing in classic mafia activities: kidnapping, robberies, drugs, prostitution and extortion. It has extended its influence to other activities, some legal, but also to illegal gold mining.
Interior Minister Admiral Remigio Ceballos said Thursday that authorities had discovered tunnels that allowed detainees to escape, without specifying how many of them had gotten away.
He said four prison officials had been arrested and charged with complicity with the criminals.
"We would like to know more about how these officials managed to enter with rockets and weapons without the complicity of many other people," said the OVV.