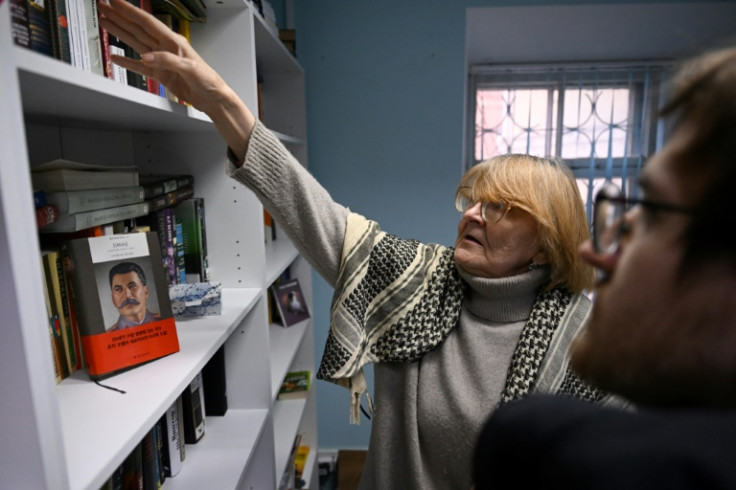 The librarian scans the shelves and quickly picks out a few works -- Orwell, Sorokin, Dostoevsky -- the authors she thinks can best help cast some light in a dark time for Russia.
The scene is in Ivanovo, an industrial city five hours' drive from Moscow, where the "George Orwell Library" was set up last year in an effort to counter growing propaganda and censorship.
The simple library housed in the ground floor of a run-down building has a computer, a few hundred books and a lingering smell of the perfume used by the librarian, Alexandra Karaseva.
"Books help to see what is human, even in an enemy, and reject any form of dehumanisation," the 67-year-old said as she handles the tomes.
The library was opened by Dmitry Silin, a local businessman and opponent of the conflict in Ukraine who has since fled Russia fearing he could be imprisoned for his outspoken views.
Karaseva showed off the collection of books about dystopias, the Soviet prison system, the works of contemporary writers critical of the Kremlin as well as some lighter novels to "lift spirits".
"The more you read about dystopias, the more freedom you have. They show the dangers, as well as ways of avoiding them and of resisting," Karaseva said.
The books are not banned and can therefore be loaned to readers just like a normal library.
Among them are works by authors now classified as "foreign agents" under Russian law which in bookshops have to be sold with their covers hidden.
The librarian, with her turtleneck and thick glasses, is a wellspring of knowledge. Only her pronunciation is uneven because of her damaged teeth.
With a blond fringe falling over her eyes, she talks about Orwell's masterpiece "1984" which describes an ultimately futile attempt at resistence in a highly effective dictatorship.
She talks about the revolutionary self-destruction in Dostoevsky's "Demons" and the explosive dystopias in Vladimir Sorokin's works, as well as the maverick works of Harper Lee and Erich Maria Remarque.
Karaseva is a retired historian of ancient Rome, specialising in "the transition from the Republic to the dictatorship".
She does not only deal in high-brow and even shares her thinking on the blockbuster film "Barbie" which she said was "deeper than it seems".
The film was recently shown in the library meeting room.
Dmitry Shestopalov, 18, an activist for the opposition party Yabloko, attended the screening and regularly visits the library to watch films and meet other young people.
"You can develop yourself here despite everything that is happening in our country. You can forget fear, feel free, feel comfort, feel that you are not alone in the enormous system that is devouring us," he said.
Lawyer Anastasya Rudenko, 41, a co-founder of the library, said she sees in modern Russia "signs" of the same totalitarianism described in "1984".
Above all, she feels a sense of "fear that shackles".
She is also struck by the contemporary relevance of the slogan from the book "Ignorance Is Strength".
In Russia "people who try not to understand what is going on live very well," she said.
In Ivanovo's central square, near a plaque for those killed by Tsarist Russia during an anti-war demonstration in 1915, Rudenko reflects on her own "personal tragedy" as an icy wind lashes her face.
Her brother and her husband are both Russian army officers serving in the "special military operation" -- the euphemism used by the Kremlin to classify Russia's offensive against Ukraine.
She cannot speak openly about the topic.
The slightest sensitive comment could mean a sanction or even a prison sentence. Being a lawyer or the wife of an officer would not protect her.
In June 2023, Rudenko was sentenced to pay a fine for "discrediting" the Russian army for some Telegram posts where she said she had watched a documentary by opposition leader Alexei Navalny.
Her husband came to the court hearing to support her.
A normally smiling, energetic woman with a Ukrainian father, she breaks down when she talks about the "great pain" of being powerless confronted by the conflict.
But she said she loves her husband "without a doubt even more" since he left to fight.
To anyone who might question the contradiction and ask why they are still together, she replies: "And you? What would you have done?"
© 2023 Latin Times. All rights reserved. Do not reproduce without permission.