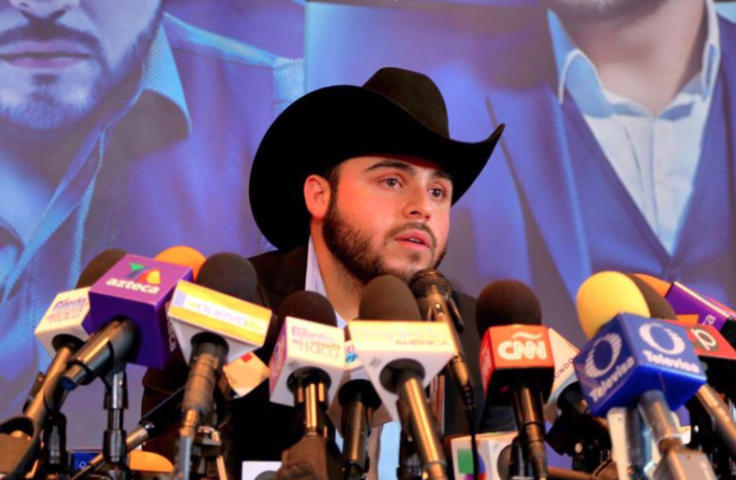 Gerardo Ortiz is pulling a Pontius Pilate and is "washing his hands" after his latest music video, "Fuiste Mía," generated online controversy for promoting femicide.
"There are movies, television series that are out there similar to my video. No one in this video is really dead. This is all fiction. I wanted to be the actor in the video," said the singer during a press conference on Monday.
Ortiz, who assured there were no official charges or even law suits against him, continued to defend his clip stating, "it's only a music video, pure fiction. People have to understand and learn how to distinguish fiction from reality."
In "Fuiste Mía," Ortiz's character violently murders his lover after finding her in bed with another man. After shooting the guy she was having an affair with in the head, he proceeds to tie the woman, played by Tracy Saenz, down and burns her alive in the trunk of his car.
"I have a mother, I have a niece, my grandma that I love so much," said the 26-year-old singer. "What can I say, my mother is my queen and everything to me. It was never my intention to offend anyone. Actually, I think my video has gotten everyone talking about this delicate topic and my video shows what is unfortunately happening around the world."
According to recent statistics provided by free lance reporter Andrea Noel, more than 3 million women have been victims of sexual violence, more than 1,400 women were assaulted, beaten, or raped, and more than 1,900 women and young girls were violently murdered in Mexico and Latin America, and the reality is that violence against women in these places is a cultural problem that is systemic and unlikely to improve.
The petition to take Ortiz's video down from social media and websites has gathered 6,000 signatures in the past couple of weeks. Unfortunately, and despite the Mexican government's effort to condemn the clip, "Fuiste Mía" is still up on YouTube for the world to see.
© 2023 Latin Times. All rights reserved. Do not reproduce without permission.