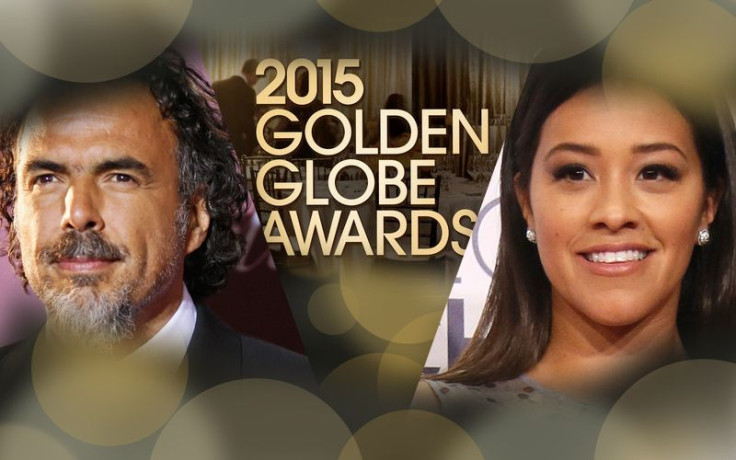 Award season has officially kicked off and one of the most shimmery, sparkly and glitzy night of the year is this weekend. The Golden Globes 2015 will be celebrated on Sunday, January 11 honoring the best in television and film. Tina Fey and Amy Poehler are back, for one last time, to host Hollywood's biggest party. You know how these girls get down and make us laugh throughout the extensive night with their hilarious jabs at the guests sipping wine, champagne and all the booze they can get their hands on. Mexican director Alejandro González Iñárritu might have a big night if "Birdman" takes home Best Picture, Director and other categories it's nominated in. In television we are rooting for Gina Rodriguez and "Jane The Virgin" as the show and the actress are up for a globe. The party is set to take place live this Sunday, January 11 from Los Angeles starting at 8pm ET/5pm PT on NBC. Watch live stream online with a behind-the-scenes take of the award show.
Salma Hayekand Jennifer Lopez are two Latin divas that have been confirmed to present an award at the glamorous gala that will be hosted by Tina Fey and Amy Poehler. Ricky Gervais, who terrorized and roasted the celebrities a couple years back, will return to present as well. We can't wait to see what he will say next! Other actors confirmed for Sunday night include Amy Adams, Adrien Brody, Robert Downey, Jr., Anna Faris, Kevin Hart, Kate Hudson, Gwyneth Paltrow, Chris Pratt,Channing Tatum, Lily Tomlin, Kristen Wiig, Owen Wilson and Catherine Zeta-Jones.
Organizers of the television and movie celebration have released a new list of presenters that includes more A-list talent like Lupita Nyong'o, Jennifer Aniston, Matthew McConaughey and Meryl Streep. In that second wave of confirmed presenters also confirmed are "Fifty Shades Of Gray" starsJamie Dornan and Dakota Johnson. Other celebs set to take the stage are Colin Firth, Kate Beckinsale, Bryan Cranston, Jane Fonda, Harrison Ford, Bill Hader, Katherine Heigl,Adam Levine, Seth Meyers, Jeremy Renner, Vince Vaughn and Kerry Washington. LatinTimes will have complete coverage of the show. Tell us, who are you most exciting to see this Sunday night?
© 2023 Latin Times. All rights reserved. Do not reproduce without permission.