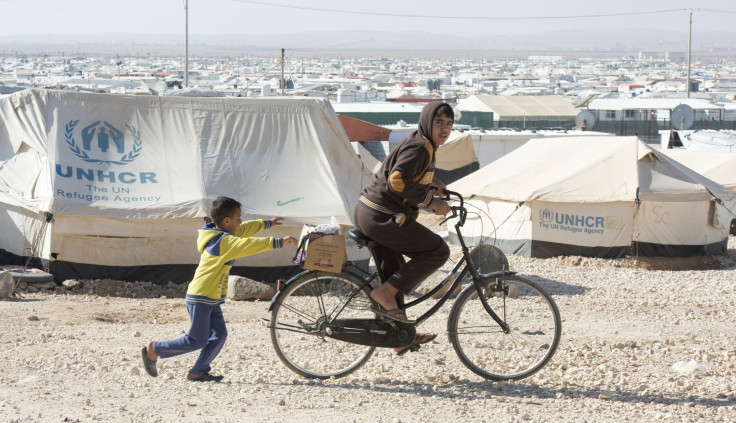 Immigration politics are threatening to shut down the government, again, as lawmakers in Washington don their armor and sharpen their halberds ahead of the Dec. 11 deadline for a federal spending bill. While Syrian refugees and the Paris terrorist attacks are on the front end of conservative arguments for defunding federal spending, the latest immigration kerfuffle is just one item on a laundry list of festering arguments in the gridlocked capital. Less than two weeks from a critical appropriations deadline, here are the 4 reasons why immigration controversies could shut down the government.
1) Democrats In The Senate Are Blocking A Popular Anti-Refugee Bill
In the wake of the Paris Attacks, the House passed a bipartisan bill that would saddle the U.S. refugee resettlement program with additional screening requirements, slowing or even halting plans to integrate 10,000 migrants over the next year. Some lawmakers say that the bill is important enough to threaten a government shutdown. Others think it is unnecessary.
Supporters say that the bill is needed to prevent terrorists from using the refugee program as a "Trojan Horse," as one Republican lawmaker called it. Opponents of the measures point out that the refugee program is already the most rigorous screening program, and probably the last route a terrorist would use to settle in the U.S.
In any case, the bill polled well and attracted around 50 Democratic votes, passing with a veto-proof majority in the house. To prevent the bill from making it to Obama's desk, Senate Democrats have vowed to filibuster the bill.
Republicans are hesitant to be responsible for another multi-billion dollar shutdown , but if they focus on the filibuster, they may win the blame game and make it the Senate's fault.
2) National Security Rhetoric
"Defunding President Obama's refugee program is the only way to ensure that America can actually stop a refugee influx until we can determine without question that we are not giving terrorists a free pass into the United States," Rep. Walter Jones (R-N.C.) told The Hill last week, arguing that the House bill didn't go far enough to prevent the Federal government from receiving Syrians fleeing the ongoing civil war there.
3) Republicans Are Motivated By Years Of Pent-Up Anger Over Immigration
Sen. Jeff Sessions (R — Alabama) called on his colleagues to use the possibility of a federal shutdown to force changes in White House immigration policies, including everything from refugee resettlement to municipal policing policies to deportation relief for certain immigrants in the country illegally.
"This year's appropriations bills – which will be combined into a catch-all 'omnibus' by December 11th – amount to a blank check for the President to carry out his refugee resettlement plans," Sessions said in a statement.
Far from using the refugee crisis as a "Trojan Horse," Sessions is up front about leveraging fear from following the Paris Attacks as a battering ram for other conservative complaints on other immigration.
In his statement, he called for an end to placement of certain Central American refugees, an end to Obama's executive actions shielding some immigrants from deportation, and a crackdown on municipalities that don't allocate local police resources to enforce immigration laws.
4) "Poison Pill" Refugee Measure In The Senate
A measure to defund the refugee resettlement program could be tacked onto the federal spending bill in the Senate, basically saying "pass this or government funding ends." That could force Democrats to block the omnibus bill themselves.
The White House has urged legislators to pass a different set of measures to tighten immigration security outside the refugee program, like business and tourist travelers, who are subjected to more relaxed screenings. Such a measure might allow lawmakers to tell their constituents that they've done something, without shutting out refugees all together or shutting down the government.
© 2023 Latin Times. All rights reserved. Do not reproduce without permission.