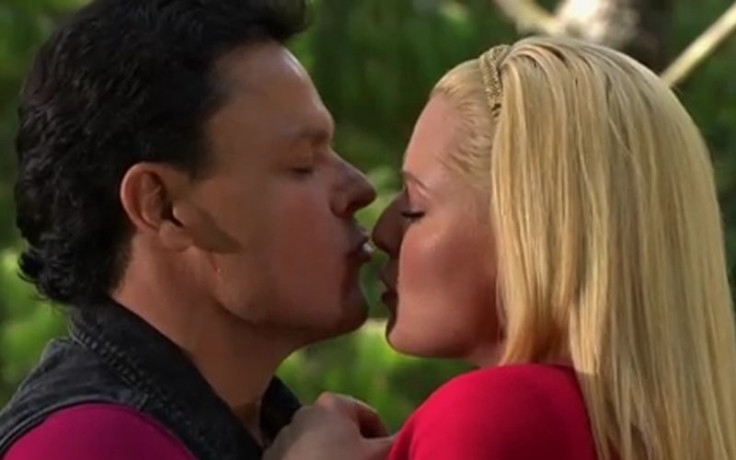 Pedro Fernández and Marjorie De Sousa are the stars of the Univision primetime telenovela "Hasta El Fin Del Mundo." The Televisa production has struggled to gain traction with viewers but timely changes to the scripts have managed to maintain an audience. Initial reaction to the pairing of Fernández and De Sousa was not positive with social media citing the age differences or that the "Yo No Fui" singer was not up to par in attractiveness to the blonde beauty. Now it seems that both actors are having some differences and Pedro might be exiting the production soon. Rumors on "Todo Para La Mujer" point to the wife and daughters of the actors being jealous of Marjorie and their kissing scenes.
Nicandro Diaz, producer of the melodrama, has considered eliminating scenes where the actors kiss, but that could be dangerous to a telenovela. A similar situation happened with "Quiero Amarte" where Karyme Lozano refused to act out sex and kissing scenes. Backlash from the audience made ratings go down as they couldn't conceive a telenovela about love without passionate action. As it is "Hasta El Fin Del Mundo" ranks as No. 2 behind "Mi Corazón Es Tuyo" consistently, despite having the best timeslot on El Canal de las Estrellas in México. We can only imagine how far lower the ratings would go if they eliminated any contact scenes between the protagonists. The good thing is that Pedro and Marjorie have seemed to resolved their issues and no changes are expected.
"Hasta El Fin Del Mundo" is the story of Sofia Ripoll, a beautiful and intelligent woman with a strong character, is the General Manager of Ripoll Factory, Patricio Iturbide's girlfriend and the oldest sister of Alexa and Daniela. When her father died, she took charge of the family business since her mother, Greta Bandy widow of Ripoll, resolves to dedicate her life to the arts avoiding her responsibilities. Salvador Cruz, a simple, noble and sweet tempered man who is a racing driver and also a mechanic, due to a sabotage he misses the chance to compete in a very important race which ends with his dreams, being forced to accept a job as Sofia's driver. Both feel an immediate attraction that gives rise to a story in which they must go around a series of obstacles. One of these obstacles is Patricio, an ambitious man who, under the orders of Geronimo Peralta, uses Sofia as a corporate ladder to take over the lands located in the Union district where the Ripoll chocolate factory is also located.
© 2023 Latin Times. All rights reserved. Do not reproduce without permission.