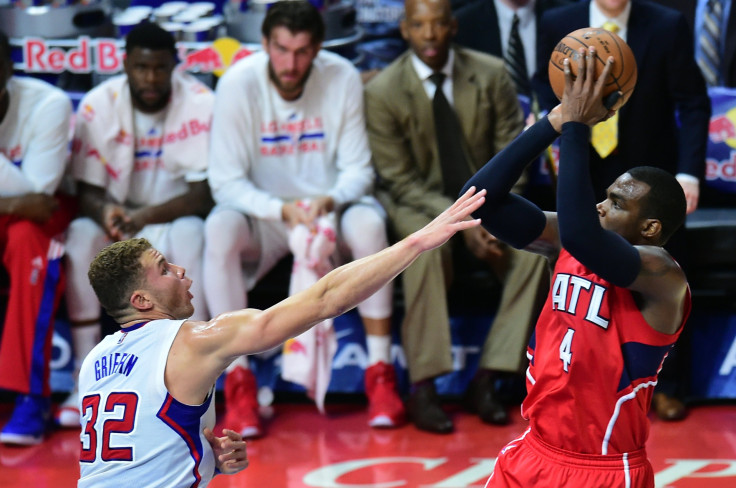 LOS ANGLES – For the second time in as many weeks the hot shooting Hawks toppled the mighty Clippers. The Hawks balanced attack was too much for the Clippers to handle as Atlanta had five players in double figures and defeated Los Angeles 107– 98 on Monday night at Staples Center.
The Hawks used an 18-6 run to open the 4th quarter and opened up a 17-point lead on Los Angeles before resting their starters down the stretch. The Hawks have now won seven consecutive games on the road for the first time in 21 years and 19 of 21 overall.
"I am very proud of our guys," said Atlanta Hawks head coach, Mike Budenholzer. "Winning on the road, in our league, is very difficult."
Paul Millsap led the way for the Hawks with 23 points and 8 rebounds, Jeff Teague had 20 points and DeMarre Carroll finished with 17 points, 8 rebounds, 4 assists and 3 three-pointers.
Al Horford contributed 16 points for the Hawks who now take over sole possession of the Eastern conference with a 1.5 game lead over the Chicago Bulls.
"It's a great feeling," said Horford in the locker room. "We came out here and just wanted to play solid. I was very proud of the way we handled adversity."
The Clippers jumped out to an early 15-2 lead before Atlanta had to call a timeout to settle the team down. They got right back in the game thanks to their defense and didn't let up throughout the contest.
Blake Griffin led the Clippers with 26 points, 10 rebounds and six assists. Chris Paul had a rough game scoring, going 3-8 for 10 points and 10 assists before fouling out with less than two minutes to play in the game.
"I can't do that no more!" said Paul about his foul trouble. "I have to be more aggressive. That's on me."
Paul was in foul trouble for most of the game, which put a lot of onus on Griffin. The superstar power forward struggled while Paul was on the bench as he committed five crucial turnovers. The Clippers team as a whole struggled with turnovers throughout the game as their 21 turnovers led to 23 transition points by the Hawks.
"When CP [Chris Paul] is not out there, that is a voice that is gone," said Griffin about his sidekick's foul trouble. "That's one of our best players and our playmaker. Vocally and even just playing-wise, I have to step up and do a better job… when he was sitting, that was kind of when we lost it."
The Clippers also were well balanced as they had six players in double figures. However, they have consistently struggled against the elite teams in the East, and are now 0-5 against the top four teams in the Eastern conference. The loss snaps the Clippers three game-winning streak.
"Our guys were trying to make plays, but too many," said Clippers coach Doc Rivers about their losing record to the Eastern Conference contenders. "When you have 23 assists and 21 turnovers, it is hard to win a game against anyone, especially a team like that."
The Clippers held two practices over the last three days, more than they have had in nearly two months.
"These practices are too much," joked Clippers center, DeAndre Jordan before the game. "I'm not used to this."
Jordan played well in the loss finishing with 15 points, 16 rebounds and three blocks, but was visibly upset after the game.
"You are a little ticked off when you lose a basketball game," he said. "You feel like you had the opportunity to win. I feel like it should wake us up more and let us know what good basketball teams are doing and how we need to take another step, or two steps, in order to be able to compete at the highest level every night. We just need to wake up a little bit and know that everything is around the corner."
Game Notes:
Dennis Rodman sat behind the Clippers bench for the game and was seen talking with players. The Clippers now square off with their locker room rivals, the Los Angeles Lakers on Wednesday.
© 2023 Latin Times. All rights reserved. Do not reproduce without permission.