Latin couple Sebastian Yatra and Tini Stoesell dazzled at the Premios Juventud 2019 in Coral Gables, Florida.
Considered one of the biggest nights in Latin entertainment, the event that took place on July 19 was attended by the biggest Latin celebrities in music, film and television. One the hottest stars to grace the event were Sebastian Yatra and girlfriend Tini.
With a breathtaking performance at the Univision awards night, the couple made everyone realize one thing: they are the ultimate Latin couple goals!
Colombian singer Yatra and Argentine singer-actress Stoesell confirmed their relationship in June, but fans have already witnessed several of their sweetest moments and seen their hottest photos.
"I love you," Tini wrote in an Instagram post last June together with a photo of her and Yatra hugging each other.
"And so do I, Martina," wrote back Yatra, with heart emojis.
So how did this Latin romance start?
It started in the "Cristina" music video in March -- Tini took the role of Yatra's love interest. "Cristina" is one of Yatra's singles from his album "Fantasia."
The stars then performed a romantic version of the single on "La Voz Kids Colombia" back in May. This wasn't the first time the two collaborated, though. Back in 2018, the couple also worked on "Quiero Volver," Tini's song from the album of the same title.
Their spark continued at the Premios Juventud 2019 Awards Night, where their performance made social media explode.
Premios Juventud has given fans a glimpse of the steamy onstage kiss they shared in the middle of a superb performance at the awards night.
Spotify Latino was also charmed by their chemistry.
"Get you someone that looks at you like [Sebastian Yatra] @SebastianYatra looks at [Tini] @TiniStoessel," Spotify Latino tweeted.
The latino couple have also melted fans' hearts even while goofing around. The two look absolutely cut in this video from rehearsals.
Even fans cannot handle the overwhelming sweetness.
With on-point vocals and indenialable chemistry, there's no doubt fans will be following the Sebastian Yatra and Tini love story.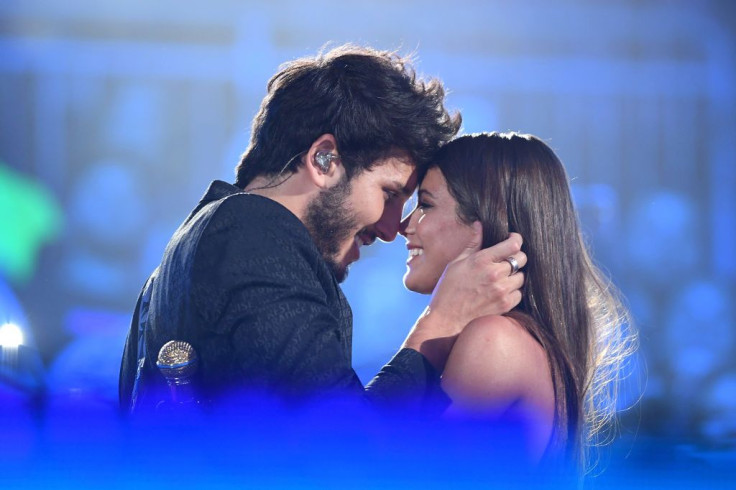 © 2023 Latin Times. All rights reserved. Do not reproduce without permission.