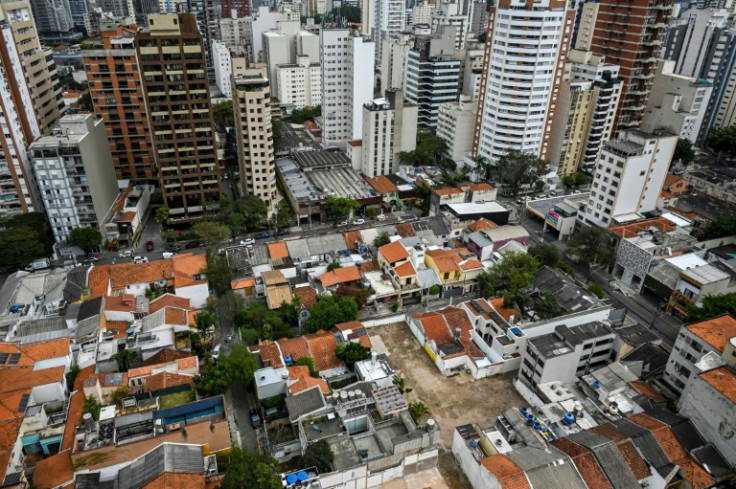 Worried by the surge of skyscrapers fast replacing the houses and historic buildings in her Sao Paulo neighborhood, Rosanne Brancatelli put up a sign on her street: "Don't take away our sun."
Brancatelli, 60, lives in the last group of houses in the upscale Pinheiros neighborhood, in the shadows of the high-rises popping up at a dizzying pace in the Brazilian mega-city of 11 million people.
"Every day, (developers) call us saying, 'Your neighbors have all sold. Aren't you going to sell? You're going to end up surrounded by tall buildings,'" she says.
Sao Paulo, the biggest city in the southern hemisphere, is already famous for its towering skyline, a true urban jungle of concrete and glass.
But Brazil's economic capital has grown even taller since a controversial urban planning law relaxed limits on skyscrapers in 2014, unleashing a wave of high-rise projects -- but failing, critics say, in its aim of creating lower-income housing with easy access to public transportation.
Fed up with what she calls the "exacerbated verticalization" and "loss of heritage" in her neighborhood, Brancatelli joined together with neighbors in 2021 to launch an association called Pro-Pinheiros, which fights to protect local neighborhoods and the environment.
She says she has counted no less than 80 simultaneous high-rise projects in the 20 or so blocks around her house.
That is a lot even for Sao Paulo, a cosmopolitan city built on waves of immigration throughout the 20th century that grew at breakneck pace into the sprawling, traffic-snarled, bubbling metropolis it is today.
The skyscraper bonanza has given rise to vertigo-inducing figures: the number of new apartments on the market per year in Sao Paulo has gone from 23,000 in 2015 to 82,000 in 2021, according to real-estate association Secovi.
But the 2014 reform's goal of helping low- and middle-income families afford housing near public transportation arteries has fallen flat, says noted architect and urban planner Raquel Rolnik.
"We're going through the biggest real-estate boom in the city's history, an accelerated vertical transformation that has no relation with people's real needs," she said.
Even as the high-rises go up, the city is in a social crisis, with tens of thousands of homeless people, she added.
City hall has admitted the 2014 urban planning framework fell short of its goals, mainly benefiting swank development projects that are unaffordable for many residents.
In an attempted fix, city hall voted in June to revise the plan, allowing even more construction.
"The more supply there is, the more prices will fall. Our idea is to extend the population density zone on either side of the main transportation axes, so low- and middle-income people can live there, too," said the proposal's sponsor, city councilor Rodrigo Goulart.
Under the plan, developers who dedicate part of new projects to affordable housing win the right to build bigger buildings -- though they will not be required to.
Not everyone is a fan.
"The (2022) census shows Sao Paulo's population has stopped growing. It makes no sense to keep building when there's no more demand," said Alexandre Fontenelle-Weber, director of ZeroCem, an urban planning institute.
Some Sao Paulo residents say the bulldozers are also swallowing up parts of the city's history.
Stefania Gola, 51, has run the legendary bar "O do Borogodo" since 2001. She says she fears it could be torn down.
"Sao Paulo's most iconic samba venue," as she calls it, has already seen all the houses around it give way to tall buildings.
And the property's owner has asked her to leave, she said.
"This is the last bohemian spot in the neighborhood," she told AFP.
"All the places linked to samba and Afro-Brazilian culture have disappeared. We're fighting to stay, because we're part of the city's history."