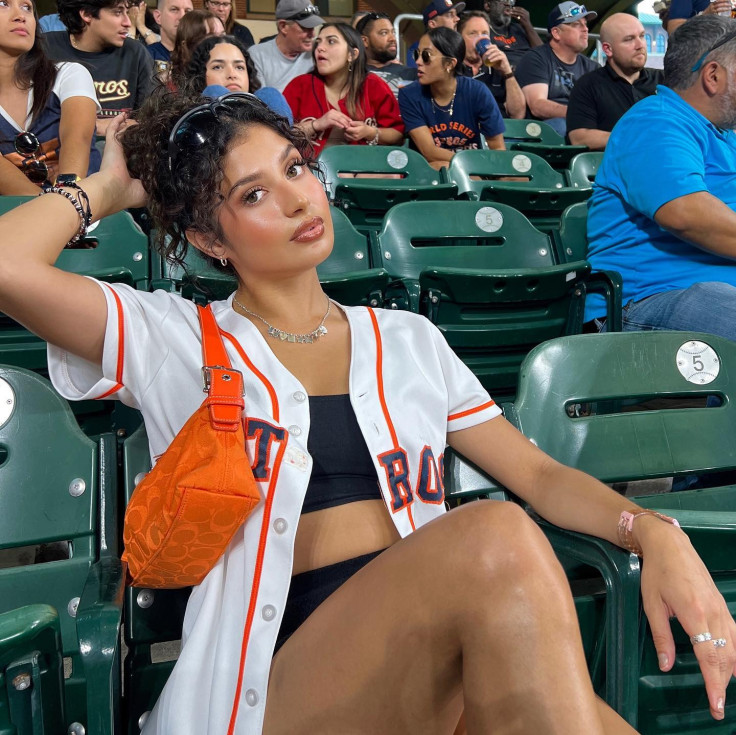 The viral Tik Tok video of @Jackielabonita has reached over 7.3 millions views and has sparked several reactions from the Hispanic side of Tik Tok.
The Tik Tok video shows Jackie posing for pictures during a Houston Astros baseball game Friday night while two girls appear in the background giving Jackie the side eye, sticking their tongues out and flicking her off.
Jackie posted the video with caption: "Watch my confidence vanish after these random girls make fun of me for taking pictures."
Jackie mentioned in the Tik Tok video that she wanted to cry during the situation, and people on social media were outraged.
A former boyfriend of one of the girls, who goes by @Stephano_z, defended the girls in Jackie's video and told social media users to be kind and not post negative comments about them.
"Just because you wanted some likes and followers on Tik Tok."
The former boyfriend deleted the video and posted another one, captioning it: I will never turn my comments off and i stand by what i say. So feel free to ask me anything.
Social media even went above and beyond to contact one of the girls work-place, Limestone Commercial Real Estate, who was then confirmed by the company that she did not work there.
@Stephano_z said in a since-removed clip: "I don't understand how you guys stand against bullying and literally cyber-bullying every single person that is not even involved in this and going as far to take down a company just because you thought she worked there."
The company since then has received backlash and negative comments, pursing them to delete their Facebook page.
Another former boyfriend of one of the girls, posted on Tik Tok, but with a different opinion, captioning his video: This was back in 2020 🙄.

Tik Tok user Jasmine, commented on the former boyfriends Tik Tok video asking if his ex-girlfriend that was seen on Jackie's video if she bullied him too.
"A lot," he replied.
The Hispanic side of Tik Tok even jumped in and commented on Rangel's video.

Hispanic Tik Tok user @Dee_Gee commented: "Tick Toc is more messy que la vecina in the hood and im here for it."
Another Hispanic Tik Tok user who goes by @vargaste24 also commented on the former boyfriend's video, saying the situation is better than "novelas."

"Top Chier Chismosa, but I'm here for it," Hispanic Tik Tok user @julitomarana also jumped in on the thread.

© 2023 Latin Times. All rights reserved. Do not reproduce without permission.