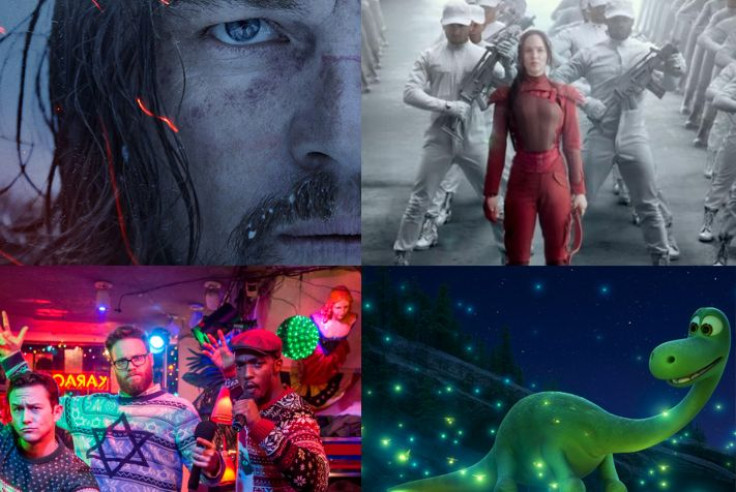 It's the most wonderful time of the year, not only because the holidays are almost upon us but because Hollywood tends to save the best for last. Most highly anticipated and Oscar-buzz worthy films hit theatres around this season. Check out some of the hottest upcoming releases:
"The Night Before Christmas"
Opens: November 20, 2015
From Jonathan Levine, the acclaimed director of 50/50, comes the new comedy The Night Before. Ethan (Joseph Gordon-Levitt), Isaac (Seth Rogen) and Chris (Anthony Mackie) have been friends since childhood, and for a decade, their yearly Christmas Eve reunion has been an annual night of debauchery and hilarity. Now that they're entering adulthood, the tradition is coming to an end, and to make it as memorable as possible, they set out to find the Nutcracka Ball – the Holy Grail of Christmas parties.
"The Hunger Games: Mockingjay 2"
Opens: November 20, 2015
Realizing the stakes are no longer just for survival, Katniss Everdeen (Jennifer Lawrence) teams up with her closest friends, including Peeta (Josh Hutcherson), Gale (Liam Hemsworth) and Finnick for the ultimate mission. Together, they leave District 13 to liberate the citizens of war-torn Panem and assassinate President Snow, who's obsessed with destroying Katniss. What lies ahead are mortal traps, dangerous enemies and moral choices that will ultimately determine the future of millions.
"Carol"
Opens: November 20, 2015
Therese Belivet (Rooney Mara) spots the beautiful, elegant Carol (Cate Blanchett) perusing the doll displays in a 1950s Manhattan department store. The two women develop a fast bond that becomes a love with complicated consequences.
"Secret in Their Eyes"
Opens: November 20, 2015
Rising FBI investigators Ray (Chiwetel Ejiofor) and Jess (Julia Roberts), along with Claire (Nicole Kidman), their district-attorney supervisor, are suddenly torn apart following the brutal murder of Jess' teenage daughter. Thirteen years later, after obsessively searching for the elusive killer, Ray uncovers a new lead that he is certain can permanently resolve the case and bring long-desired closure to the team. But no one is prepared for the shocking and unspeakable secret that follows.
Opens: November 25, 2015
Disney brings an animated comedy to the big screen this November 15 with this film. "The Good Dinosaur" explores the idea of what could've happened if the asteroid that forever changed life on Earth had not caused the Dinosaurs' extinction.
"Creed"
Opens: November 25, 2015
Adonis Johnson (Michael B. Jordan) never knew his famous father, boxing champion Apollo Creed, who died before Adonis was born. However, boxing is in his blood, so he seeks out Rocky Balboa (Sylvester Stallone) and asks the retired champ to be his trainer. Rocky sees much of Apollo in Adonis, and agrees to mentor him, even as he battles an opponent deadlier than any in the ring. With Rocky's help, Adonis soon gets a title shot, but whether he has the true heart of a fighter remains to be seen.
"The Danish Girl"
Opens: November 27, 2015
With support from his loving wife Gerda (Alicia Vikander), artist Einar Wegener (Eddie Redmayne) prepares to undergo one of the first sex-change operations.
"The Letters"
Opens: December 4, 2015
Mother Theresa, recipient of the Nobel Peace Prize, is considered one of the greatest humanitarians of modern times. Her selfless commitment changed hearts, lives and inspired millions throughout the world. "The Letters,", as told through personal letters she wrote over the last 40 years of her life, reveal a troubled and vulnerable women who grew to feel an isolation and an abandonment by God. The story is told from the point of view of a Vatican priest charged with the task of investigating acts and events following her death. He recounts her life's work, her political oppression, her religious zeal and her unbreakable spirit.
"In the Heart of the Sea"
Opens: December 11, 2015
In 1820, crewmen (Chris Hemsworth, Benjamin Walker, Cillian Murphy) aboard the New England vessel Essex face a harrowing battle for survival when a whale of mammoth size and strength attacks with force, crippling their ship and leaving them adrift in the ocean. Pushed to their limits and facing storms, starvation, panic and despair, the survivors must resort to the unthinkable to stay alive. Their incredible tale ultimately inspires author Herman Melville to write "Moby-Dick."
"Star Wars: The Force Awakens"
Opens: December 18, 2015
Thirty years after defeating the Galactic Empire, Han Solo (Harrison Ford) and his allies face a new threat from the evil Kylo Ren (Adam Driver) and his army of Stormtroopers.
"Joy"
Opens: December 25, 2015
A story of a family across four generations, centered on the girl who becomes the woman who founds a business dynasty and becomes a matriarch in her own right. Facing betrayal, treachery, the loss of innocence and the scars of love, Joy becomes a true boss of family and enterprise in a world of unforgiving commerce. Allies become adversaries and adversaries become allies, both inside and outside the family, as Joy's inner life and fierce imagination carry her through the storm she faces.
Opens: December 25, 2015
While racing toward the town of Red Rock in post-Civil War Wyoming, bounty hunter John "The Hangman" Ruth (Kurt Russell) and his fugitive prisoner (Jennifer Jason Leigh) encounter another bounty hunter (Samuel L. Jackson) and a man who claims to be a sheriff. Hoping to find shelter from a blizzard, the group travels to a stagecoach stopover located on a mountain pass. Greeted there by four strangers, the eight travelers soon learn that they may not make it to their destination after all.
"Point Break"
Opens: December 25, 2015
In Alcon Entertainment's thriller "Point Break," a young FBI agent, Johnny Utah (Luke Bracey), infiltrates a cunning team of thrill-seeking elite athletes – led by the charismatic Bodhi (Édgar Ramírez). The athletes are suspected of carrying out a spate of crimes in extremely unusual ways. Deep undercover, and with his life in imminent danger, Utah strives to prove they are the architects of this string of inconceivable crimes. The film is replete with the most daring athleticism ever seen in a motion picture. These action adventure feats are performed by elite athletes representing the world's best in class in big-wave surfing, wingsuit flying, sheer-face snowboarding, free rock climbing, and high-speed motorcycling.
"Daddy's Home"
Opens: December 25, 2015
The film follows a mild-mannered radio executive (Ferrell) who strives to become the best stepdad to his wife's two children, but complications ensue when their freewheeling and freeloading real father (Wahlberg) arrives, forcing him to compete for the affection of the kids.
"Concussion"
Opens: December 25, 2015
Will Smith stars in Concussion, a thriller based on the incredible true David vs. Goliath story of American immigrant Dr. Bennet Omalu, the brilliant forensic neuropathologist who made the first discovery of CTE, a football-related brain trauma, in a pro player and fought for the truth to be known. Omalu's emotional quest puts him at dangerous odds with one of the most powerful – and beloved – institutions in the world.
Opens (limited release): December 25, 2015
Opens (wide): January 8, 2016
Alejandro González Iñárritu's (Academy Award® winner) latest film is already creating a lot of Oscar buzz is directed and co-written by this renowned filmmaker and stars Leonardo DiCaprio, Tom Hardy, Domhnall Gleeson and Will Poulter. "The Revenant" is an immersive and visceral cinematic experience capturing one man's epic adventure of survival and the extraordinary power of the human spirit.
© 2023 Latin Times. All rights reserved. Do not reproduce without permission.