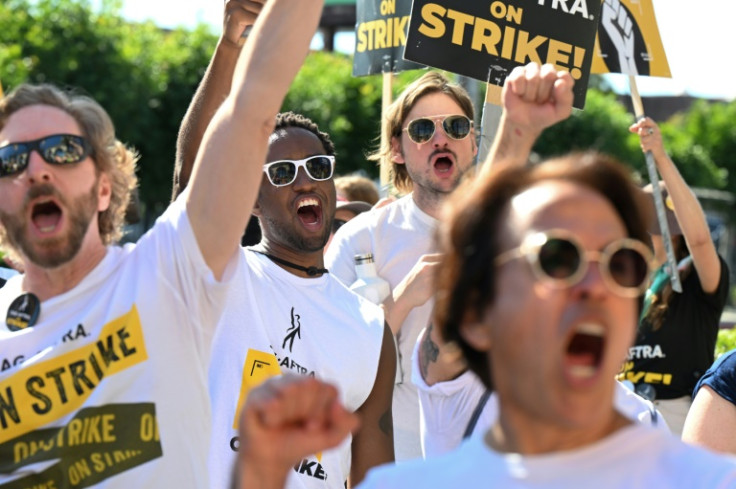 Hollywood actors and studios reached a tentative deal Wednesday to end a months-long strike that has crippled the entertainment industry, delayed hundreds of popular shows and films, and cost billions to the US economy.
The Screen Actors Guild (SAG-AFTRA) called off its 118-day strike from midnight (0800 GMT Thursday) after finally reaching an agreement with the likes of Disney and Netflix for a new contract including higher pay, and protections against the use of artificial intelligence.
The announcement paves the way for actors to head back to movie sets, an end to picket lines outside studios, and a return to employment for thousands of other jobs linked to the entertainment industry.
"In a unanimous vote this afternoon, the SAG-AFTRA TV/Theatrical Committee approved a tentative agreement... bringing an end to the 118 day strike," a spokeswoman said in a statement.
The deal still needs to be ratified. That process could take weeks, but the agreement is widely expected to pass.
Talks between the two sides had taken place almost daily for the past two weeks, with CEOs of studios including Disney, Netflix, Warner and Universal often attending personally, as the clamor for a deal grew.
Given the duration of the strike, studios already face gaping holes in their release schedules for next year and beyond, while many actors have been forced to find second jobs or quit the business.
SAG-AFTRA represents some 160,000 performers.
While Hollywood's elite stars earn millions, many less-known actors said it had become almost impossible to earn a decent living, as long-standing pay structures had failed to keep pace with inflation and industry changes.
Studios, who have already delayed the release of major films such as "Dune: Part Two" and the next "Mission: Impossible" installment, will now be scrambling to restart productions on hit shows like "Stranger Things" in time for next year.
When SAG-AFTRA walked out in mid-July, Hollywood writers were also on strike, but they have since resolved their contract dispute.
The two guilds shared several concerns.
In particular, the growth of streaming platforms -- who typically order fewer episodes per series, and pay minimal "residuals" to actors and writers when a hit show gets rewatched -- has severely eroded their incomes.
AI proved a major sticking point in the final stretch of negotiations, with talks often struggling to keep pace with the rapid advances in the technology.
© 2023 Latin Times. All rights reserved. Do not reproduce without permission.