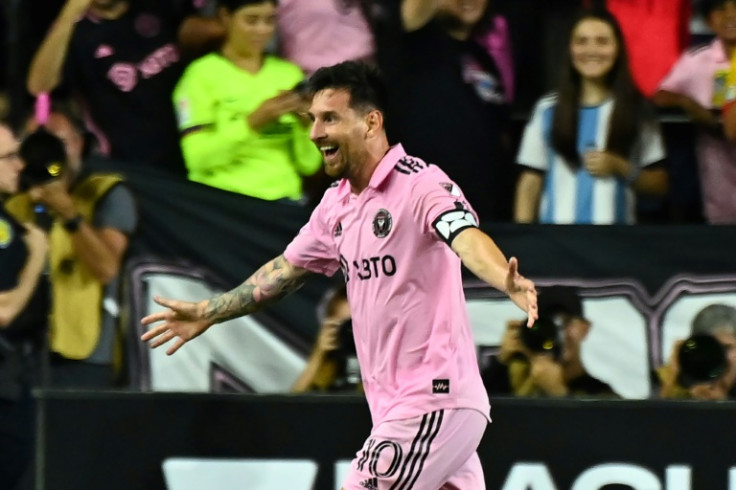 The MLS released their updated 2023 player salaries, and surprising to none is the fact that the first place is held by Argentine superstar Lionel Messi, with a guaranteed compensation of $20,446,667 million.
Five other Latino made it to the top 10: Mexican Javier "Chicharito" Hernández, who plays for LA Galaxy, sits at 4th with almost $7.5 million in guaranteed compensation, Argentine Sebastián Driussi stands at 6th, with Austin FC guaranteeing him over $6 million this season.
Houston Dynamo's Héctor Herrera, from Mexico, is on 7th place with about $5.2 million for the season, while LA Galaxy will pay just about $4.5 million to Brazilian Douglas Costa, a figure that lands him 8th. Messi's teammate, Venezuelan Josef Martínez, is at the bottom of the list with just about under $4.4 million guaranteed salary.
According to AP, Messi earns more than twice the $9.6 million payroll of Orlando City, which has the lowest in the league. He accounts for 4% of MLS's total compensation of $501.9 million. "Miami tops the league with a $39.4 million payroll based on total guaranteed compensation, followed by Toronto at $32.3 million, the LA Galaxy at $25 million and LAFC at $20.8 million," according to some additional figures ran by the news outlet.
Messi's salary at MLS is lower than the figure he got at his last club, PGS, where according to Sporting News he received a $41 million net salary including bonuses.
However, the salary is just a part of a massive deal he signed when joining Inter Miami. According to Sportico, Messi's deal is "worth up to $150 million" as it also takes into account a signing bonus and equity in the team.
But it doesn't end there: he's also signed revenue-sharing agreements with Adidas, which supplies the teams' kits and Apple, which has the broadcast rights for the MLS worldwide.
In May 2023, Forbes listed Messi as the second highest-paid athlete this year, earning $65 million from off-field earnings and $65 million from on-field earnings, reaching a total of $130 million. The only one to make more than Messi was fellow soccer legend Cristiano Ronaldo, who has signed a historic contract with Saudi team Al-Nassr.
The Argentine star hit the ground running in Miami, leading the team to its first title, the Leagues Cup, by scoring 10 goals in seven games. However, a protracted leg injury kept him away for several league games after that, impairing Inter Miami and its chances of making it to the playoffs. The team, which was struggling in the league before his arrival, failed to make it to the post-season, meaning that after the last regular match on Saturday against Charlotte FC, Messi will begin a lengthy vacation from U.S. soccer.
© 2023 Latin Times. All rights reserved. Do not reproduce without permission.