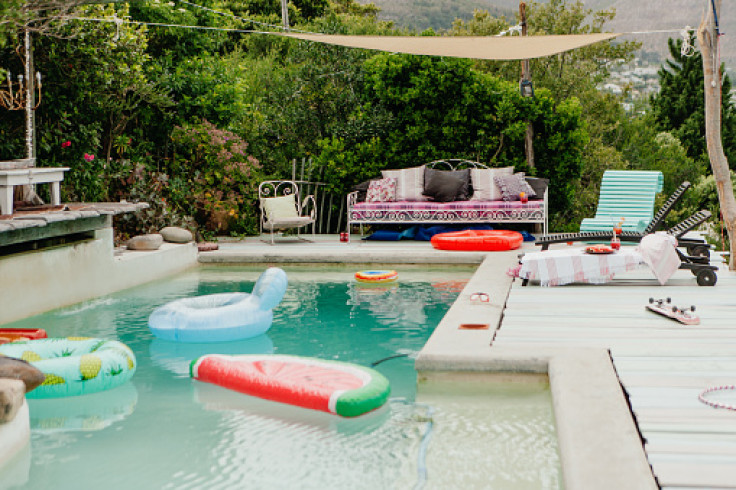 According to a report, the woman who exploded into a racially charged tirade against a Latino family by the apartment complex pool in Colorado claims the family assaulted her first.
The "deceptively edited" video that went viral also doesn't accurately depict the incident.
Blair Featherman, 49, told the Daily Mail in her first public remarks since the video of her rage went viral that the tape that was released on TikTok was altered to make it look as though she was racist.
Featherman was caught on camera calling the family "low class" and "trash" for hosting a pool party around the Fourth of July.
"I have been trying to stay silent and not comment about this, but there are things the video doesn't show," the art consultant reportedly said.
"I'm not a racist," she added. "It was deceptively edited and put together to tell a narrative that isn't true."
Featherman can be seen cursing the group in the video of her outburst at the Alta Green Mountain housing complex.
"You have a f–king Mexican party in a pool," she said. "Trash."
When she realized she was being recorded, she appeared to grab the phone away, insisting, "You can't do that. You can't just record me."
She called them "low class" and told them to go back to Denver before later shouting, "You're nasty, you smell."
Featherman said to the Daily Mail that after she complained to the group that they were infringing the complex's regulations because the tenant was hosting too many people at the pool, the group began to criticize her.
She confessed that she ought to have maintained her composure rather than launching into a rant.
Members of the group started calling her "white b—h and white this and white that," she reportedly claimed.
"I was already having a bad day," Featherman said. "But this was too much."
She said that the group retaliated when she grabbed for the phone that was recording her, with one lady tugging her hair so forcefully that her false nail snapped off, New York Post reported.
The TikTok video posted under the account Jade Serie does not include that purported portion of the altercation.
Featherman said that she was unable to think clearly as she continued to dispute with the group while sitting in one of the lounge chairs.
"I couldn't believe what just happened, my heart was racing, and I was so full of adrenaline," she said.
Although officials reacted to the event, the Lakewood Police Department previously told The Post that no criminal charges were brought.
© 2023 Latin Times. All rights reserved. Do not reproduce without permission.