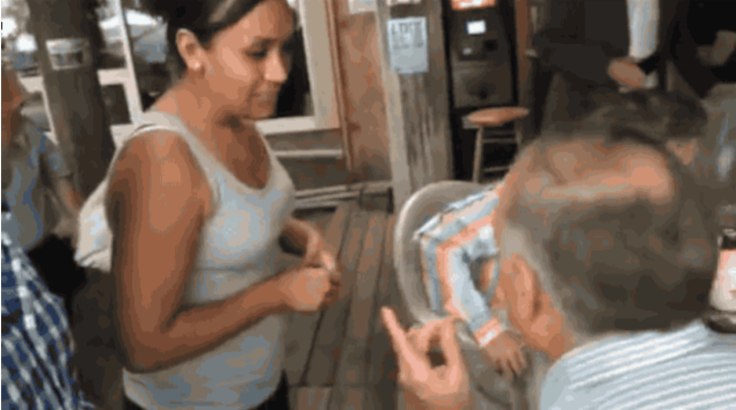 Look how fast Senator Rand Paul flews the scene as this Dreamer arrives.
Republican Senator Rand Paul has faced undocumented migrants and run the other way! At an Iowa fundraiser for anti-gay Tea Party Congressman Steve King, tow DREAMers, Erika Andiola and Cesar Vargas, approached the table as the two Republicans were preparing to dig in to their meal. "My name is Erika," Andiola said. "I'm actually a DREAMer myself." Paul and his handlers clearly sensed activism was on the agenda and made a run for it!
"I know you really want to get rid of DACA," Andiola told King, referring to the Deferred Action for Childhood Arrivals, an Obama program that temporarily allows DREAMers to avoid deportation. "So I just wanted to give you the opportunity and rip mine," she added, handing King what appeared to be her DACA registration card."This is not what I do," King repeatedly insisted, as he stood up and removed his glasses.
"I'm really sorry that you come from a lawless country," Rep. King says at the end. "I hope that you can have a happy life. But please, do not erode the rule of law in America." King later told CNN that Andiola and Vargas simply came "to create a scene." "And I decided early in the conversation that I was not going to walk away," he told reporters. "They're here demanding that we change the laws…Why would you want to bring lawlessness to the United States of America?"
© 2023 Latin Times. All rights reserved. Do not reproduce without permission.