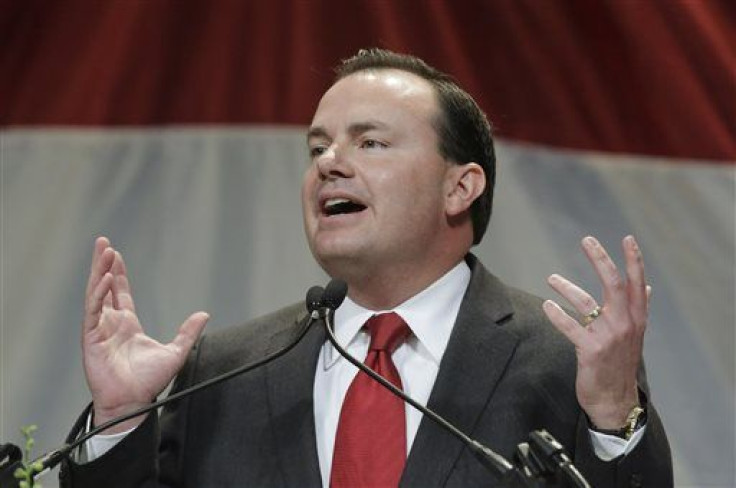 The Senate "Gang of Eight" immigration reform bill went to the Senate floor for the first day of debate today before it goes to a vote on June 10. This morning, two Republican senators registered their opposition to the bill in speeches -- Sens. Jeff Sessions of Alabama and Mike Lee of Utah. In Lee's speech, he argued that the size alone of the comprehensive reform bill indicated its ineffectiveness and warned that loopholes in it could turn out to allow for perceived abuses of power like those the Patriot Act granted to national security agencies.
"Did the American people have any idea that the Patriot Act would spur the national -- empower the national security agency to spy on all Americans through their cell phones and computers?" asked Lee. "What makes any of us, least of all any conservative, believe this immigration bill is going to work out any better? The lesson we should be taking from our recent mistakes is not that we need to pass better huge, sweeping new laws, but that we should instead undertake major necessary reforms incrementally, one step at a time, and in the proper sequence."
RELATED: Border Deaths Steady Despite Decreased Numbers Of Migrants
RELATED: Who Are The 7 Democrats Who Could Vote Against Immigration Reform?
RELATED: 4 Fast Facts About Central American Immigration
He added: "We need to face the fact that thousand-page bureaucratic overhauls do not achieve their desired goals, and they create far more problems than they tend to solve. We can achieve comprehensive immigration reform without having to pass another thousand-page bill full of loopholes, carve-outs and unintended consequences."
President Barack Obama called controversy over the National Security Agency's order for Verizon phone records "hype." "Nobody is listening to your telephone calls. That's not what this program's about," he said, and added that every senator had been briefed about it long before reports emerged in the press.
Senator Jeff Sessions' speech decried "lawlessness" which the bill would foment, saying the country needed improved border patrols and increased deportations of immigrants in the country without authorization. "Virtually no one is being deported," he repeatedly said. Sessions has in the past stated that he does not believe the record figure of 400,000 deportations which the Obama administration says it has carried out. The Alabama senator said that the path to citizenship granted to 6 million undocumented immigrants in the country in 1986 created the current situation and that enforcement was needed to ensure it did not happen again.
Two Democratic senators, Barbara Boxer of California and Bill Nelson of Florida, also spoke on the Senate floor today in support of the bill. Both indicated that the path to citizenship it provided for the nation's 11 million undocumented would boost the economy, create jobs and increase wages and asserted that deportation would mean economic collapse. Nelson also suggested that those who sought to stay could be required to pay fines, pay taxes, learn English and hold down jobs. "Don't stay employed, you're out," he said.
© 2023 Latin Times. All rights reserved. Do not reproduce without permission.