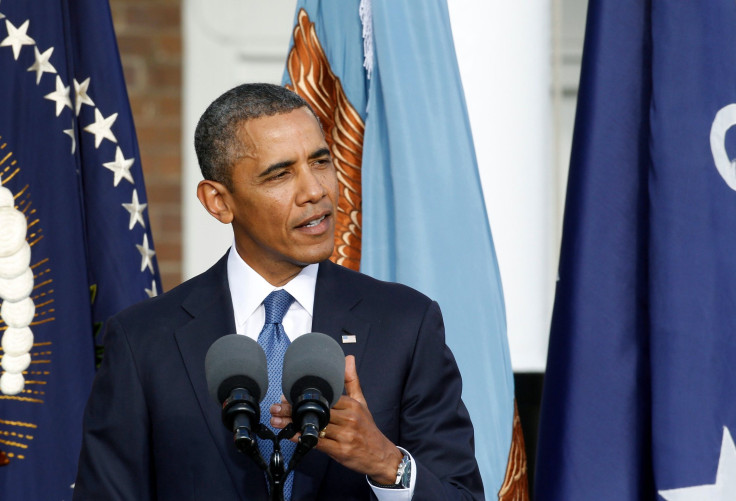 President Barack Obama convened CEOs and business leaders with some of the country's largest corporations at the White House on Tuesday morning to ask them to help pressure Republicans in the House of Representatives to act on immigration reform legislation. House Republicans say they plan to pursue a series of small, single-issue bills on immigration, and have refused to consider the comprehensive bill passed by the Senate in June. According to the Hill, White House press secretary Jay Carney said on Monday that Obama would stress to the business leaders -- who say they support an overhaul of the country's immigration system -- "the importance of getting immigration reform done to bolster U.S. economic growth."
"Immigration reform will reduce the deficit by nearly $850 billion over the first 20 years, and it will grow the economy by $1.4 trillion over 20 years, which adds 5.4 percent to the GDP by 2033," Carney told the Hill. "It has broad bipartisan support from Democrats and Republicans, business and labor leaders, law enforcement and faith leaders." President Obama has pledged to return to pushing the issue after the resolution of disputes over the debt ceiling. According to the Associated Press, Obama said on Tuesday that he has some "unlikely bedfellows" in his push for immigration reform. The U.S. Chamber of Commerce is also sending some 50 small business owners to meet with lawmakers on Tuesday, and the AFL-CIO is planning to announce details of a new push on Wednesday.
Republican leadership in the House says they still plan to act on the issue in 2013. House Speaker John Boehner (R-Ohio) told reporters last month, "I still think immigration reform is an important subject that needs to be addressed, and I'm hopeful" that the lower chamber would address the issue soon. But friction over the debt ceiling crisis has complicated matters. Raul Labrador (R-Idaho) has said he thought his party would be "crazy" to negotiate with the president on the issue, and Obama has seen at least one invitation to meet with House Republicans rebuffed. Rep. Michael McCaul (R-Texas), the House Homeland Security Committee chairman, said on Laura Ingraham's radio show last week, "I was invited to the White House yesterday, and I refused to meet with the president because I saw it as a political trap," He added, "I am not pushing for immigration reform. I've been against amnesty my entire career. I'm simply interested in getting the security piece done." The list of CEOs and business leaders attending the White House meeting today includes McDonald's CEO Don Thompson, Blackstone co-founder Stephen Schwarzman, Marriott CEO Arne Sorenson, State Farm CEO Edward Rust, Lockheed Martin CEO Marillyn Hewson, Deloitte CEO Joe Exhvarria, Motorola Solutions CEO Greg Brown and Evercore Partners founder Roger Altman.
RELATED: Could Rep. David Valadao Become The Second House Republican To Back A Comprehensive Bill?
© 2023 Latin Times. All rights reserved. Do not reproduce without permission.