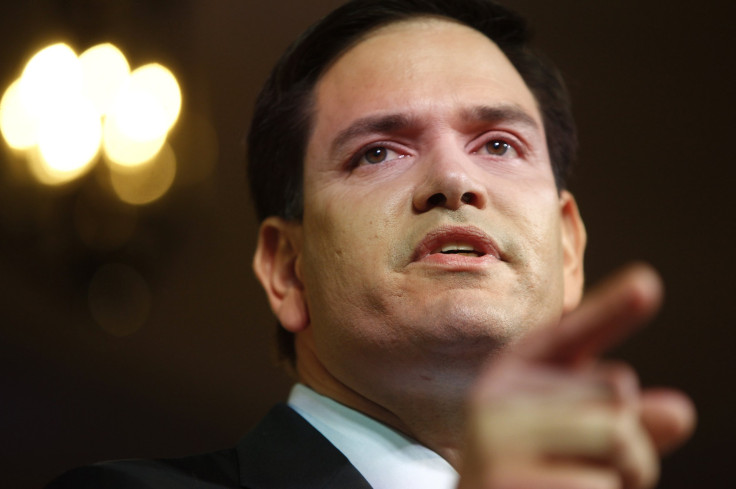 If elected president, Marco Rubio would not pursue a pathway to citizenship for the 11.2 million immigrants in the country illegally, reports Bloomberg's Sahil Kapur. On Monday night, the Florida Senator gave Fox News gave commentator Sean Hannity additional details about his immigration views, which have changed since 2013 when he participated in the Gang of 8, a bipartisan group that produced a comprehensive immigration reform bill. His view since he announced his campaign is that a successful immigration bill can't be comprehensive and must start with border security.
"The first two things you have to do is stop illegal immigration, then second you have to modernize our legal immigration system, and then third you can have a debate about how to even legalize people to begin with," Rubio told Hannity.
Rubio believes in a merit-based immigration system that prioritizes immigrant's skills, as opposed to the current system which prioritizes family bonds and reunification. He also says that he would like immigrants in the country illegally to have the possibility to attain citizenship, but his comments have been vague.
For this first time, Rubio put a timeline on his proposal for citizenship, revealing that he didn't intend to reach that third point -- "legalizing people" at any time during his hypothetical presidency.
"And then ultimately in 10 or 12 years you could have a broader debate about how has this worked out and should we allow some of them to apply for green cards and eventually citizenship."
In other words, even if Marco Rubio were reelected, he wouldn't prioritize a pathway to citizenship. A spokesman confirmed that the comments weren't a slip of the tongue, saying that his comments on Hannity were consistent with his existing position.
Yet for foreign-born voters and their family members who were on the fence about Rubio's candidacy, this revelation could be a deciding factor in their vote.
Hispanic Hero, Or Another Anti-Immigrant Anathema?
Rubio has used the inspiring story of his own immigrant heritage as a major talking point on the campaign trail. His parents left pre-revolutionary Cuba in search of better job opportunities.
At the GOP debate last week, he defended the use of Spanish in Latino homes and in public life, supporting former Florida Gov. Jeb Bush in a tiff against businessman Donald Trump. Trump has called on candidates to "set an example" by speaking English on the campaign.
Rubio responded with a personal story about his grandfather, who didn't speak English.
"My grandfather instilled in me the belief that I was blessed to live in the one society in all of human history where even I, the son of a bartender and a maid, could aspire to have anything," Rubio said on the CNN stage at the Ronald Reagan Presidential Library.
"But he taught me that in Spanish," Rubio continued, "because it was the language he was most comfortable in. And he became a conservative, even though he got his news in Spanish."
Republican pundits including Rubio's own campaign staff say that his cultural background can help him be a competitive candidate in the general election. But is speaking Spanish and sharing stories of Latino heritage enough to secure the Latino vote?
Critics argue that an eventual GOP nominee will have to support immigration policies favored by Latinos. Polls conducted by Telemundo and Univision have show that Latino voters for example are much more likely to vote for a candidate who supports some form of legal status.
With Marco Rubio's affirmation that we won't make legal status a part of his presidency, the only remaining competitive contender in the GOP who would bring immigrants out of the shadows is Jeb Bush.
© 2023 Latin Times. All rights reserved. Do not reproduce without permission.