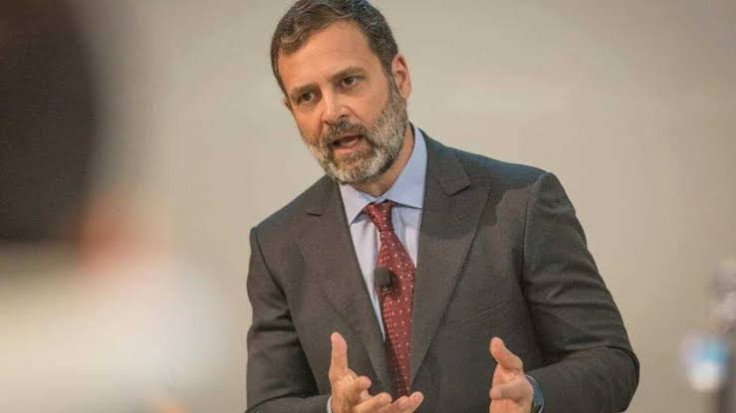 In a criminal defamation lawsuit, Indian opposition leader Rahul Gandhi has been sentenced to two years in prison.
The Gujarat state court found the Congress MP guilty of remarks he made in 2019 at an election rally regarding Prime Minister Narendra Modi's surname.
Mr. Gandhi, who appeared in court for the punishment, is out on bail for another 30 days and plans to file an appeal.
His party claimed that he was being pursued because he revealed the "dark deeds" of the administration. Elections are due next year.
A spokesman for Congress said the decision contained many "legally unsustainable conclusions" and promised that the body's lawmakers would not be silenced.
"Make no mistake. All your attempts to create a chilling effect, a throttling effect, a strangulating effect on open fearless speech relating to public influence will not stop either Rahul Gandhi or the Congress Party," Abhishek Manu Singhvi told a news conference.
The case, which goes back to the election campaign before the most recent one, is being handled according to the law, according to the ruling Bharatiya Janata Party (BJP), BBC reported.
"Why do all these thieves have Modi as their surname? Nirav Modi, Lalit Modi, Narendra Modi," Mr. Gandhi asked during a gathering in the state of Karnataka in April 2019.
Lalit Modi is the former chief of the Indian Premier League and is currently on the run from the country's cricket board, while Nirav Modi is a fugitive Indian diamond tycoon.
Mr. Gandhi claims that his remark was not intended to disparage any particular group but rather to draw attention to corruption.
Legal action has also been taken against other opposition politicians and groups that the Indian government has considered critical.
Two top members of the Aam Admi Party (AAP), which currently controls Delhi, are incarcerated on what the party claims are politically motivated charges. The group's head endorsed Mr. Gandhi.
"We have differences with the Congress, but it is not right to implicate Rahul Gandhi in a defamation case like this," Arvind Kejriwal tweeted. "It is the job of the public and the opposition to ask questions."
Purnesh Modi, a BJP lawmaker, complained to Rahul Gandhi because his remarks had defamed the entire Modi community.
However, the ruling made by the Surat bench perplexed some experts. According to a tweet from legal expert Gautam Bhatia, "references to a generic class of persons" - surnames in this case - are not "actionable unless an individual can show a direct reference to themselves".
"If a man says 'all lawyers are thieves', then I, as a lawyer, cannot file a case against him for defamation unless I can show its imputation aimed at me," Mr. Bhatia said.
"Firstly, Mr. Gandhi is not a resident of Gujarat and so, before the complaint, an inquiry should be conducted. Secondly, there is no community named Modi. Thirdly, there is no association of people with Modi as their surname and lastly, there was no ill intention behind Mr. Gandhi's speech," Mr. Gandhi's lawyer, Kirit Panwala, told BBC Gujarati their defense was based on these four points.
The highest penalty for criminal defamation in India is a two-year prison term, a fine, or a combination of the two.
Free speech advocates have frequently claimed that the law violates the fundamental principles of freedom and that politicians use it to stifle opposition voices.
Top Indian politicians, including Mr. Gandhi, submitted legal petitions in 2016 calling for the decriminalization of defamation.
The law, however, was upheld by the Supreme Court of India, which ruled that "the right to free speech cannot mean that a citizen can defame the other."
After his conviction, some questioned Mr. Gandhi's eligibility to serve in the assembly.
In India, defamation cannot be a reason to disqualify someone on its own.
A member of parliament may be removed from office for offenses like inciting animosity and electoral fraud. But they may also lose their eligibility if they receive a term of two years or longer for a crime.
A two-year prison sentence would prevent Mr. Gandhi from running in the general election of 2024.
"What they will do [is] they are likely to go to the top court, which will stay the judgment," says a political commentator, who insisted on anonymity.
"But the question is: does this judgment mean that there's a sword of Damocles hanging over any leader? There are cases filed against leaders for all sorts of so-called crimes. Normally nothing happens."
The Nehru-Gandhi political family, which has produced three Indian prime ministers, is represented by Mr. Gandhi. Jawaharlal Nehru, his great-grandfather, was India's first and longest-serving prime minister. His father, Rajiv Gandhi, was India's youngest prime minister, and his grandmother, Indira Gandhi, served as the nation's first female prime minister.
From India's independence in 1947 until 2014, when Narendra Modi's BJP swept to power in a landslide, their party, the Congress, virtually constantly ruled the country for a few years.
The Congress has since deteriorated into a shell of its former self, and in 2019, the BJP crushed it once more.
In India's history, the major opposition figure has only ever been imprisoned once. Indira Gandhi, who was no longer the prime minister at the time, was removed from the lower house and imprisoned for nine days in December 1978 for violating parliamentary privileges.
© 2023 Latin Times. All rights reserved. Do not reproduce without permission.