Have you ever looked at a Major League baseball player with envy? Ever dreamed of playing professional baseball as a career? For those that think that all baseball players are 'living the dream,' think again. Behind the double plays, and suicide squeezes lies an injustice that needs to be unearthed; baseball exploits its Latino players.
The salaries in MLB are often so gaudy that it makes our heads spin. With the World Series starting today, its noteworthy to mention that over 21 players in 2014 made over $20 million dollars. Comparatively, there is only eight in the NBA, and none in the NFL. Baseball's $8 billion a year business by far surpasses the average salary of every other professional league, at $3.4 million for your average everyday player.
Still green with envy? What if I told you that beyond the 800 or so major leaguers who make an annual salary that we could only dream of, lies over 7,000 minor league players who make an average annual salary over just over $6,000, most of them Latinos. This is the hypocrisy of Major League Baseball; this is the injustice that must be stopped.
A lawsuit filed by 32 former minor-league players is going to court against the MLB, and in the suit it hopes to bring the exploitation of minor-league players to end. The average minor-league player works 60-70 hours per week, is lucky to get two days off a month, is paid no overtime, receives a $25 meal per diem, and is paid nothing for the mandatory six weeks of spring training that occurs every February. All this, and a minuscule $1,250 per month, for the chance of achieving the ultimate dream: playing in the major leagues.
NBC News recently published a story on Witer Jimenez, the only Latino player of the 32 in the lawsuit against MLB. Jimenez was born in the Dominican Republic and at 21 years-old, he signed a $15,000 contract to play with the Philadelphia Phillies. After taxes, agent fees, and other expenses, he was left with a little under $6,000 when he came to the United States for spring training in 2010.
"When you get here," Jimenez said in Spanish. "You look around at all sides and you think, wow, things are good here! But no, it's not like people think."
Jimenez batted .152 in just over 107 games with Phillies before he was cut. At the time of his release, he was at home visiting family in the Dominican Republic; he had zero dollars in his bank account and no source of income. He had sacrificed his education to try and make it as a professional baseball player, quitting school at 16, after he was scouted by many organizations in the MLB.
"I sacrificed my studies," he said, "I lost a lot – a lot of time with my father, my mother, going to the beach with my friends."
Jimenez's story is unfortunately very common for Latinos in the game of baseball. Latinos make up over 25% of the players in the entire sport, across five different leagues, yet the pay structure is imbalanced at best, where the top 5 percent make almost all the money, leaving nothing for the other 95 percent of Latino players. At his peak, Jimenez was making $1,100 per month. In comparison, fellow Dominican Jose Bautista made $21,500 per at bat this season and Dodgers ace, Clayton Kershaw, made over $11,200 per pitch in 2014.
Like many Latino baseball players who are scouted abroad, once they are told they are getting a contract from a MLB team, they think they have made it. Most believe its all money, fame and cars from that point forward and that the road to the big leagues is paved with roses. However, as Jimenez and many Latino players over the years have learned that reality is almost never the case.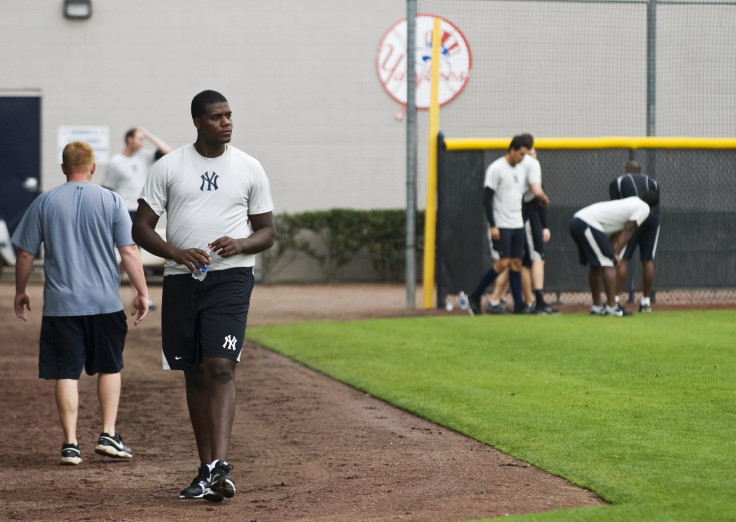 In the beginning everything seemed like a dream, the training facilities were state of the art, the fields were impeccable, Jimenez and his Latino teammates were given free hotel rooms and whatever baseball supplies they needed, the only thing they didn't get was a salary. "Un lio" he said, "A mess." After weeks of not getting paid a single dime to participate in spring training, a team official knocked on the door of Jimenez's hotel room which he shared with another Latino teammate and he was handed one $20 bill for the both of them.
"With that we washed our clothes," he remembered. "If there was any left, we had to eat with that."
Jimenez never said a word as he believed that any complaint would get him kicked off the team and ruin any chances he had of making the big leagues.
"We had to suffer in silence. What they did to me was just not just."
Unfortunately, that's the way baseball has been for decades and unless Jimenez and the other minor-leaguers win their lawsuit, it will stay that way for a long time. The odds are stacked against Latino players. They always have been. MLB rules exclude Latino players from entering the annual amateur draft, and there is a cap on bonus money allowed for international talent. On average, a Latino player signs for half of the bonus that an American born player gets, and usually, there is no education available for the Latino players to fall back on.
Jimenez returned to the United States after being cut by the Phillies and married his American girlfriend whom he met while playing in the minor leagues. He currently works as a dishwasher for TGI Fridays making a paltry $2,400 a month, but more than twice as much as he made while playing professional baseball. He says all he wants is to bridge the gap between what the players in the majors get and what the players in the minors get. He believes that if McDonalds and WalMart can have a minimum wage salary that minor-league players should also.
"The important thing is for those who are coming up to know," he said "this baseball career is not safe…it is not right."
Jimenez and the other 31 former minor leaguers hope they win their case against the MLB and raise the minimum salary in the minors as well as pay overtime to players who work more than 40 hours per week. Even if they don't win the case however, Jimenez believes they have sounded the alarm and alerted many of the young Latinos growing up who want to play the game, of the reality of the sport: this isn't the field of dreams, but rather the field of broken dreams.
© 2023 Latin Times. All rights reserved. Do not reproduce without permission.