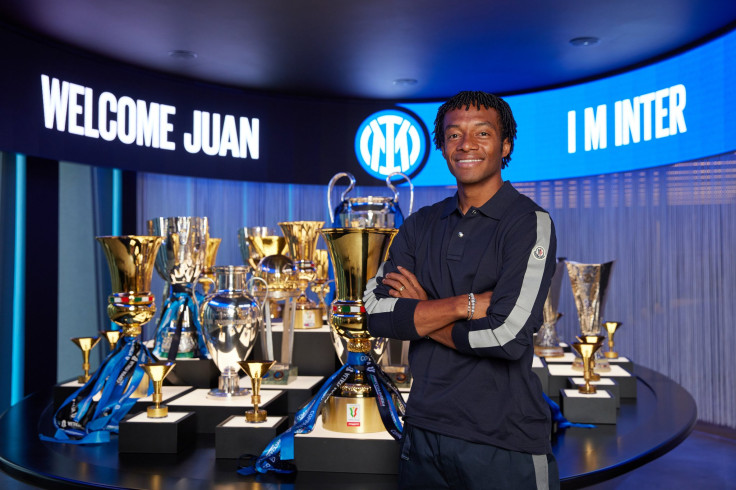 After his exit from Juventus, Colombia winger Juan Cuadrado has been signed by Inter Milan on a one-year deal.
The signing of Cuadrado from Serie A rival Juventus was completed on Wednesday even though Inter Milan's fans protested against the move.
He has won 11 trophies in eight years at Juventus, who happen to be the Nerazzurri's bitter rivals, as per the Associated Press.
The 35-year-old, who has made 115 appearances for Colombia, was involved in many incidents during matches that were held between the two clubs. One of the most notable ones was in April when he was sent off as the Italian Cup semi-final game ended in a fight. Later, the player was banned for three matches.
As news of Cuadrado's signing emerged, some of the Inter fans protested outside the club's headquarters on Wednesday. They also unfurled a banner after he arrived for his medical examination. The banner read that until today, "you have done everything to make yourself hated, if that's not what you want it's up to you to show it."
Cuadrado has also played for Lecce, Udinese and Fiorentina, according to BBC.
He said that it is an "honor to be here at one of the biggest teams in Europe."
He shared that he had many offers, but Italy is like a "second home" for him. His family is very attached to the country, and "there was the opportunity to stay here and play for a big team with a fantastic history."
He shared that he chose Inter because everyone knows what "they represent on a global level." According to him, the important thing is for his family and him to "feel good."
Out of all his compatriots, Ivan Cordoba made the most Inter Milan appearances. When asked if he was someone Cuadrado looked up to, he told Inter TV, "Yes, absolutely." The two of them are close friends and often talk. When he was about to beat Cordoba's record for the "most games played by a Colombian in Europe, we joked around a bit." He had told Cordoba that he'd "never be able to surpass him, but he encouraged me and told me I could do it."
Talking about his biggest strength, the footballer said, "My joyful nature." He shared that he tries to do everything with a smile on his face. He likes to "show this out on the pitch, and I think it's one of my most important characteristics."
© 2023 Latin Times. All rights reserved. Do not reproduce without permission.