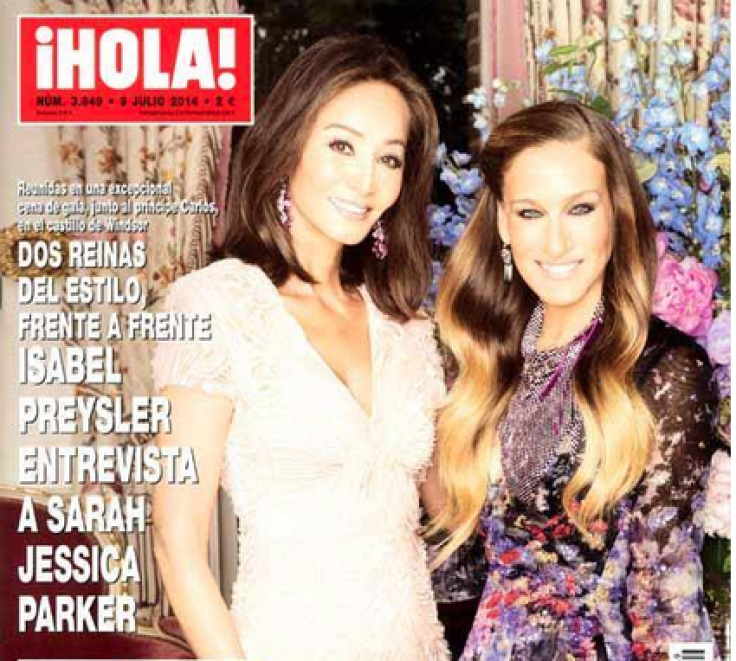 Isabel Preysler and Sarah Jessica Parker, two undisputed queens of style, have been brought together on the cover of Hola this week. The fab pair were photographed during a fantastic gala dinner recently organized by Porcelanosa with Prince Charles at Windsor Castle. Preysler, 63 years old, and Parker, 49, appear as young and beautiful as ever in the magazine posing with some members of their clan, like Julio José, Tamara Falco and Ana Boyer, and other famous guests.
The luxurious event also included Enrique Solis son of the Marquis de Montilla and Carmen Tello, Oriol Elcacho amd international model and actress Amaia Salamanca. Preysler played the role of interviewer and got the New York fashion icon and star of the legendary series Sex and the City to make some private confessions. The actress says that age does not scare her, but rather feels that it "simply happens, and you integrate it into your life. I don't wanna look like a lunatic who can't accept that the clock is ticking." However, judging frome Parker's smooth complexion, the clock isn't much of a problem!
Regarding her work in fashion, Parker says that, despite what one might think of her role as Carrie Bradshaw in said series, she does not have a "febrile relationship with fashion" and that this facet "plays a different role" in her life. The daughter of Preysler, Tamara Falco, also used the report to discuss her charity projects in Africa this summer: "I'm thinking of going as a missionary to Africa. It is shocking, but there you realize that God is with those who suffer. "
© 2023 Latin Times. All rights reserved. Do not reproduce without permission.