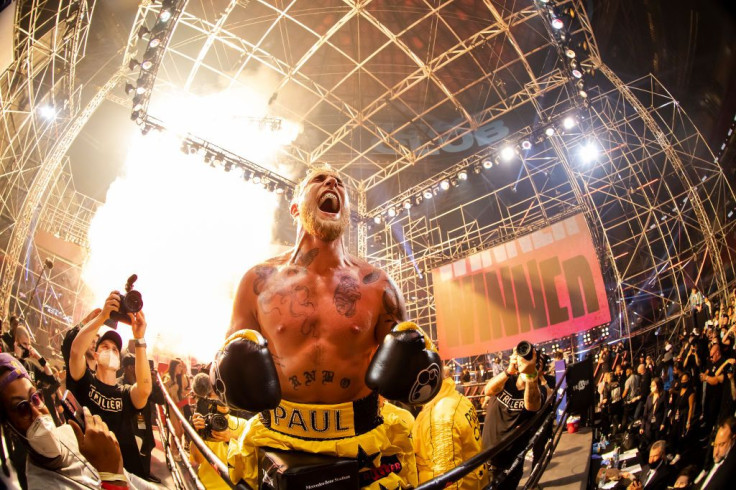 "The Problem Child" Jake Paul (6-0) posted a sparring session where he drops social media star and Faze Clan representative Faze Deestroying, better known as Faze Dee, in a sparring match at Paul's boxing training camp in Puerto Rico.
Faze Dee, born Donald De La Haye, 26, stepped into the ring without nearly as much boxing experience as the YouTube-turned-boxer Paul. The undefeated pro boxer made easy work of his social media sensation buddy after landing a three-punch combination before the 25-year-old Cleveland, Ohio native could even break a sweat.
Dee took to Instagram afterwards stating, "Boxed Jake Paul today. Safe to say that MF got hands."
Paul, uploaded videos of the session to his social media platform, as fans were left 'unimpressed' and questioned Paul's integrity after sending someone with zero experience in boxing to the canvas, according to bjpenn.com.
Dee was a good sport about it, responding to Paul's head boxing coach BJ Flores's social media post, "He hit me with a couple body shots," Dee responded to BJ Flores on social media. "Bro, I couldn't breathe. I really thought about what I did, my decision to step in the ring, he's a real boxer. Heavy a** handed, he's not even trying. First, he caught me across the head, bopped me. Then right there split my guard, smacked me right in the body, laid me out. I couldn't breathe. That boy said I had 22 seconds left, I'm good on that," Dee added jokingly about his sparring session, via The Mirror.
'The Problem Child' is currently undefeated as a professional after defeating a cast of YouTubers, retired MMA fighters, and even a former NBA dunk contest winner.
Paul prepares to announce his next opponent in 2023. The social media star had been in talks to fight rival Tommy Fury, 23, following two failed bouts between the pair in the past. Fury has withdrawn on both occasions, due to a rib injury last December and a US visa issue in August, according to The Sun.
Paul has expressed interest in fighting English mixed martial arts fighting sensation Paddy "The Baddy" Pimblett, whose recent victory over Jared Gordon was a controversial decision at UFC 282. According to TMZ, Paul has offered Pimblett $1 million to fly to Puerto Rico for a sparring session on Jan. 5. However, it is uncertain if the UFC star will take him up on it.
© 2023 Latin Times. All rights reserved. Do not reproduce without permission.