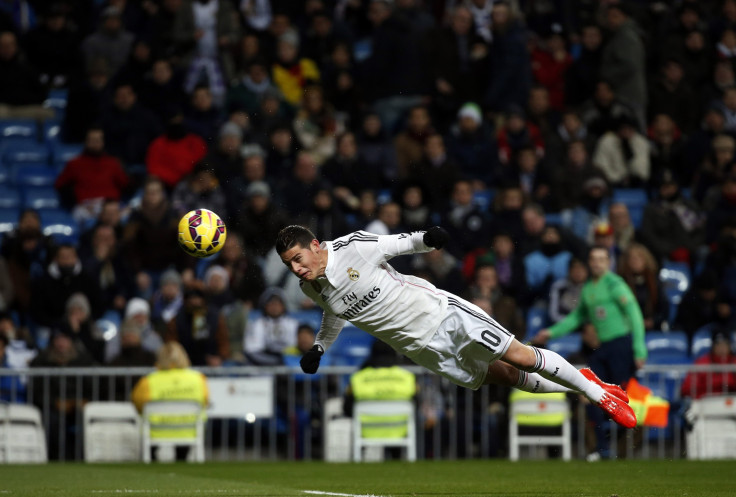 Real Madrid received some bad news on Thursday when the first place team in La Liga learned that they would be without their new star, James Rodríguez, for the next two months while he recovers from a broken foot suffered in the team's 2-1 victory over Sevilla FC.
It was an ironic twist of fate for the Colombian star as Rodríguez was the one who opened up the scoring in the match when he scored on a beautiful diving header in the 12th minute. Less than 15 minutes later, Rodríguez began to limp after a pass to a teammate. The injury was an isolated incident as he was not touched, tackled or hit in anyway.
Rodríguez immediately limped off the pitch and headed directly down the tunnel to the Los Blancos locker room. According to sources, he was taken directly to the hospital where they performed X-rays and discovered that Rodríguez had broken the fifth metatarsal in his right foot. He remained at the hospital for the remainder of his team's match as he waited for his wife, mother and daughter to arrive.
Rodríguez underwent successful surgery Thursday evening to repair the broken bone and the team announced that the Colombian star would be out for at least two months. The injury could not come at a worse time for Real Madrid who sits atop the La Liga standings as FC Barcelona and Atletico Madrid nip at their heels.
The La Liga season ends on May 24th, so there will be at least a month left when the 23-year old returns to the lineup, but the question is can Madrid maintain their lead against the other two Spanish powerhouses? The Atleti have been the Achilles heel for Los Blancos throughout the season, and they will now have to face their rivals in the "Derby" matchup this weekend without one of their best players. Rodríguez had scored 12 goals and 10 assists in 33 games with Real Madrid thus far.
Potentially more devastating for Real Madrid is their chances at defending their UEFA Champions League title. The Kings of Europe have advanced to the knockout round of 16 and are set to play Schalke on February 18th. More than likely they can advance past the German squad without Rodríguez, but potential semifinal matchups against Bayern Munich, Chelsea or FC Barcelona await them. Either way, Real Madrid's chances of defending their title as well as winning La Liga for the first time since 2011-2012 just got a little bit more difficult.
© 2023 Latin Times. All rights reserved. Do not reproduce without permission.