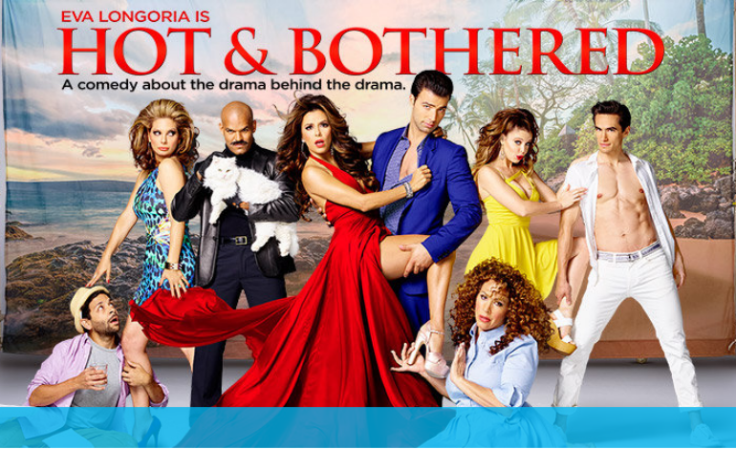 The more the cast of "Hot & Bothered" keep posting behind-the-scenes photos on social media, the more impatient we are getting! The countdown has begun for the upcoming NBC show which is executive produced by Eva Longoria, Ben Spector and directed by Steven Pink ("New Girl," "Childrens Hospital"). The comedy TV show, formerly titled "Telenovela," stars Eva, Jencarlos Canela, Diana Maria Riva, Jose Moreno Brooks and many more.
Though the half-hour show is directed by Mr. Pink, we can't help but notice that some ---or at least one--- of the episodes will be directed by Ms. Longoria herself! Cuban singer, Jencarlos, who portrays Xavier Castillo in the sitcom, shared the big news on Instagram. "Guess who's directing us next week?! @Evalongoria what an honor baby #womenpower," he wrote. The 40-year-old actress is also thrilled. "So excited for this next episode! #Telenovela #Directing#BestComedyEver," she said of the episode called "The Hurricane."
"Hot & Bothered," focuses on the daily life of a telenovela star who doesn't speak Spanish and is the center of attention. According to NBC's website, here's what to expect on the forthcoming show in a nutshell: "If you think the steamy sex, sensational scandals and heart wrenching heartbreak on Latino soap operas are a little extreme, just wait until you see what happens behind the scenes!"
The show is expected to air on NBC as a mid-season entry. Early this year, the network ordered thirteen episodes.
© 2023 Latin Times. All rights reserved. Do not reproduce without permission.