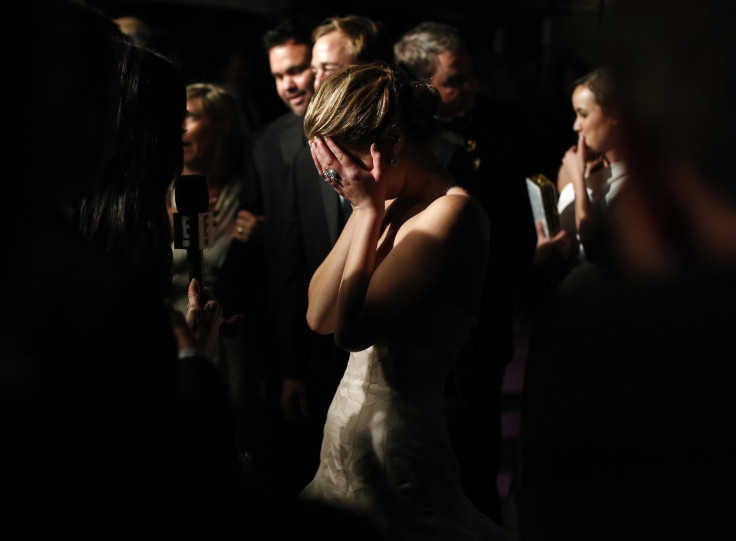 A shocking stockpile of Jennifer Lawrence nude photos surfaced on the internet over the weekend, which caused an overwhelming reaction from both news outlets and social media. According to reports, the photos were obtained via a hack that manages to exploit Apple iCloud accounts. Apparently, Jennifer Lawrence is not the only celebrity that was hacked.
According to TheNextWeb, a major security flaw was discovered and exploited in the iCloud storage service for the Apple iPhone. On Monday, a "Python script" allows hackers to use "brute force" methods to crack account passwords via the "Find My iPhone" feature. The "brute force" method relentlessly guesses passwords until it finds the right one. Following the celebrity nude scandale, Apple quickly identified the "Find My iPhone" loophole and executed the patch for iCloud users.
Reports confirm that the scandalous nude photos originated from an anonymous image board on 4Chan's infamous /b/ image board, a sleazy corner of the internet that allows users to anonymously share leaked or stolen nudes of women. According to DailyDot, a user on 4chan announced that he possessed nude photos of some of the most recognizable celebrities in the world, and would be willing to publish the photos on the thread in exchange for bitcoins. Eventually, an enormous photo dump revealed nude photos of multiple celebrities, including Kate Upton, Rihanna, Ariana Grande, Mary Elizabeth Winstead, and more.
According to a new report from the Mirror, the FBI are working around the clock to identify the anonymous hacker that distributed the nude photos online. The hacker goes by the name of "Original Guy" and is currently on the run from authorities. According to Daily Mail, the "Original Guy" revealed that the elaborate multiple-celebrity hack took months to complete and was the result of multiple hackers working together. What's more, the "Original Guy" also vowed to show even more leaked celebrity photos in the days ahead even though he faces prosecution.
"Guys, just to let you know I didn't do this by myself," stated the anonymous hacker. "There are several other people who were in on it and I needed to count on to make this happened. This is the result of several months of long and hard work by all involved. We appreciate your donations and applaud your excitement. I will soon be moving to another location from which I will continue to post."
While Jennifer Lawrence remains the top trending news and search term of the day, we fear a massive amount of celebrities will discover their stolen nude photos on the internet in the days ahead. In fact, the anonymous hacker is said to possess nude photos from as many as 101 celebrities.
Here is the alleged list of celebrities that have been hacked:
AJ Michalka, American actress, singer-songwriter, and musician
Alyson 'Aly' Michalka, AJ's sister, also an American actress
Allegra Carpenter, actress, best known for The Fault In Our Stars
Abigail Spencer, American actress
Alana Blanchard, American professional surfer and bikini model
Alexa Jane, model
Angelina McCoy, actress, best known for Enchanted
Anna O'Neill
Ashley Blankenship, actress, appeared in The Wolf Of Wall Street
Aubrey Plaza, American actress and comedian
Abigail 'Abby' Elliott, American actress, voice actress and comedian
AnnaLynne McCord, actress and model
Avril Lavigne, Canadian singer-songwriter
Amber Heard, American actress and model
Rebecca 'Becca' Tobin, actress, singer, and dancer
Brie Larson, American actress, screenwriter, director and singer
Brittany Booker
Candace Smith, American lawyer, actress, model, and beauty queen
Candice Swanepoel, South African fashion model, best known for her work with Victoria's Secret
Cara Delevingne, English fashion model
Carley Pope, Canadian actress
Carmella Carcia
Carrie Michalka
Cat Deeley, English television presenter, actress, singer and model
Carly Foulkes, Canadian model and actress
Chloe Dykstra, actress and model
Clare Bowen, Australian actress and singer
Dove Cameron, 18-year-old U.S. actress and singer
Elena Satine, Georgian-American actress and singer
Elle Evans, American model and actress
Ellenore Scott
Emily Browning, Australian film actress and singer
Emily DiDonato, model from New York
Emily Ratajkowski, British-born model and actress
Erin Cummings, American actress
Erin Heatherton, American fashion model and actress
Farrah Abraham, TV personality, author and pornographic actress
Gabrielle Union, American actress and former model
Gabi Grecko
Hayden Panettiere, U.S. actress, model and singer
Hope Solo, American goalkeeper and two-time Olympic gold medalist
Heather Marks, Canadian model
Hilary Duff, American actress and singer-songwriter
Jacqueline Dunford
Janelle Ginestra
Jennifer Lawrence, American actress
Jessiqa Pace
Jessica Dunford
Jessica Riccardi, model
Jesse Golden
JoJo, American singer, songwriter and actress
Joanna Krupa, Polish American model and actress
Jennifer 'Jenny' McCarthy, American model and actress
Josie Loren, U.S. actress
Joy Corrigan
Kaley Cuoco, American actress
Kaime O'Teter
Kate Upton, American model and actress
Kate Bosworth, American actress
Kelly Brook, English model, actress and TV presenter
Lauren 'Keke' Palmer, American actress and singer-songwriter
Kim West, American TV personality socialite
Kirsten Dunst, American actress, singer, model and director
Krysten Ritter, U.S. actress, musician, and former model
Lake Bell, American actress
Laura Ramsey, film and television actress
Lea Michele, actress and singer, best known for her performance as Rachel Berry on the Fox TV series Glee
Leelee Sobieski, actress
Leven Rambin, American actress
Lisa Kelly, American trucker who appeared in Ice Road Truckers
Lisalla Montenegro, Brazilian model
Lindsay Clubine
Lizzy Caplan, American actress
Mary-Kate Olsen, American actress and fashion designer
Mary Elizabeth Winstead, actress and recording artist
McKayla Maroney, artistic gymnast
Melissa Benoist, American actress and singer
Meagan Good, actress
Megan Boone, actress
Michelle Keegan, British actress
Mikayla Pierce
Misty Treanor, retired American beach volleyball player
Nina Stavris
Rachel Nichols, American actress and model
Rihanna, singer
Sarah Shahi, American actress
Sahara Ray
Sarah Schneider, American writer, actress, and comedian
ScarJo (possibly Scarlett Johansson, actress)
Selena Gomez, American actress and singer
Shannon McNally, singer-songwriter
Tameka Jacobs
Teresa Palmer, Australian actress and model
Uldouz
Vanessa Hudgens, American actress and singer
Victoria Justice, Nickelodeon actress
Wailana Geisen
Winona Ryder, American actress
Yvonne Strahovski, Australian actress
Alison Brie (U.S. actress) and Dave Franco (U.S. actor)
© 2023 Latin Times. All rights reserved. Do not reproduce without permission.