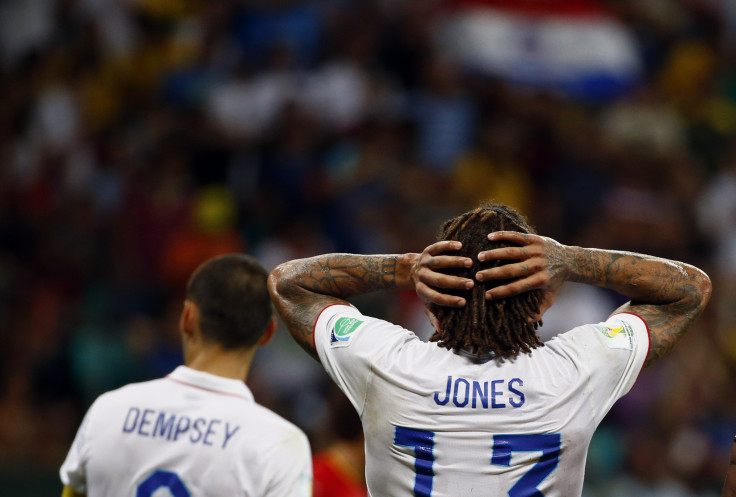 It was June 22nd in Manaus, in the second half of the United States game against Portugal at the Arena Amazonia when Jermaine Jones scored a goal that would forever change his life. In the 64h minute, Jones received a ricochet about 5 yards beyond the penalty box. In a game that Portugal was leading 1-0, Jones felt he had nothing to lose. So he reared back and let it rip. His shot curled passed the Portuguese goalkeeper and into the far side of the net. He had tied the game at 1, but more importantly he sent a nation into a frenzy, and with it put his name on the map.
Before that memorable goal, barely anybody in the United States knew who Jermaine Jones was. The relatively obscure soccer player played his club ball with FC Schalke 04 in Germany's Bundesliga. After an up and down campaign which saw him fight his own teammate and Schalke's star player Klaas-Jan Huntelaar, Jones was loaned out to Beskitas in the Turkish Super Lig. But it was not where the Frankfurt born player wanted to be.
Jones had fond memories of growing up in Chicago, IL and Greenwood, MS with his U.S. Army father, before a divorce and his father's long term jail sentence sent him back to Germany to live with his mother. Jones longed for those days and dreamed of returning to the States to play in the rapidly growing MLS. But before the World Cup, before the notoriety, there was absolutely no market for Jones in the United States, and certainly nowhere near the $2 million dollars his agent and his team in Europe were asking for.
"There was zero market for him in MLS," a source close to Jones said. "Then he scored that goal in the World Cup and he became a hot commodity. It's not like he got a lot better during the World Cup – but before that they said teams would never pay DP money for him. He was $2 million net in Europe and they said teams would never pay anything close to that. "
Before that memorable game in Manaus, Jones was heading down a dark path in the sport of soccer. With a reputation as a "bad boy", Jones was notorious in Germany for his "studs-up" challenges, frequent yellow cards and numerous suspensions. In 2010, Jones was suspended for eight weeks for stomping on a helpless opponent on the pitch. If Jones didn't harness his anger and emotions on the pitch, his career might have come to an end.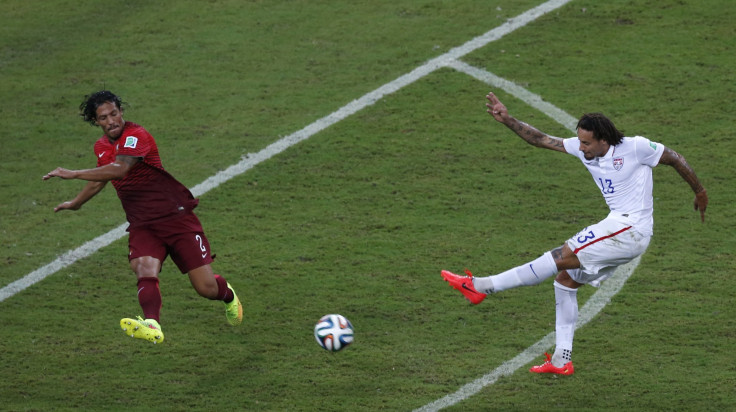 But then he caught the eye of United States Men's National Team coach, Jurgen Klinsmann. Klinsmann saw in Jones' behavior what few people did, potential. Instead of unharnessed intensity, he saw creativity and playmaking. Instead of a dirty player, he saw one who worked hard and tackled hard. Instead of a "bad boy", he saw a leader and someone who could make his teammates better. So it's no wonder Klinsmann recruited Jones to play for team USA, and in the locker room of that fateful game, told Jones to let it rip.
"In Germany, I was the guy who stays and does not go so much in front, but Jurgen Klinsmann," Jones said, talking about his U.S. coach, "he gives me that role where I can go everywhere I want to go — he knows I like to run all over the place. Against Portugal it was a tough game and we come into halftime and a lot of players were saying when we have a chance, to shoot. And Jurgen comes to me and says you shoot a lot in training and you always have the chance to score goals in training, so when you have the chance, shoot. So, we go out in the second half — in the first half there was a similar situation and they blocked the shot — so I tried the shot again and the ball goes in. And the rest is, you know, you saw it."
Fortunately for Jones, the whole world saw it, and more importantly, Chicago Fire head coach, Frank Yallop and New England Revolution owner, Jonathan Kraft saw it. Both teams wanted the services of Jones and Jones desperately wanted to play in the U.S. where he owns a home in Southern California, his father lives and he can be close to his supermodel wife and their young twins. Jones was labeled a designated player by the MLS on August 24th and signed by the Revolution via a blind draw.
For the past week Jones has been practicing and training with the Revolution, but did not make his debut with the team until Saturday night in Toronto. Jones came into the game in the 65th minute as a substitute for Diago Kobayashi and immediately made his impact on the game, and on the players around him. The Revolution went on to win the match 3-0 over Toronto FC and helped keep their playoff hopes alive.
In addition to his play on the pitch, Jones was a huge fan favorite, even in Canada as he got a huge ovation when he was introduced, and many Revolution fans could be seen wearing their new Revolution #13 jerseys. The Revolution plan to ease Jones back into action as the midfielder hasn't played a single second of soccer since the World Cup ended in July. However, if Jones is able to play anything like he did in those four World Cup games for Team USA the rest of the way for New England, than the Revolution have a great chance of lifting the MLS Cup come playoff time.
© 2023 Latin Times. All rights reserved. Do not reproduce without permission.