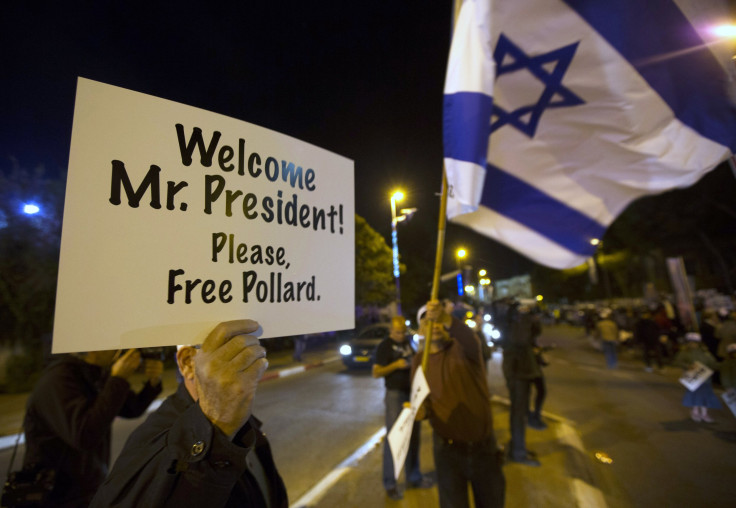 Supporters of Jonathan Pollard celebrated on Friday at the unconfirmed news that the convicted spy might be released from prison in November. Pollard's release has long been considered in various negotiations involving Israel. Some have called the idea " insane ." The intelligence damage created by Pollard has never been fully documented. Arrested in 1985 on charges of spying, he was claimed as an Israeli agent in 1998. Pollard is suspected for leaking classified documents including weapons information to other countries as well, including (apartheid) South Africa, Argentina Taiwan, and possibly Pakistan . Here's the recent history of efforts to secure his release.
1984: Pollard begins spying for Israel and other countries. Some of his leaks allegedly reach the Soviet Union.
1987: Pollard pleads guilty to selling classified material to Israel.
1995: Israel grants Pollard citizenship.
1998: Israel admits to paying tens of thousands of dollars to Pollard for his spy activities
2005: Israelis pressure Prime Minister Ariel Sharon to lobby George W. Bush for Pollard's release during a visit to Texas. An Israeli Ambassador visits Pollard, who asks that he be classified as a POW (shavui).
2007: U.S. Ambassador to Israel Richard Jones states that "The fact that [Pollard] wasn't executed is the mercy that Jonathan Pollard will receive." He later apologises clarifying that he "certainly do not personally believe that Mr. Pollard should have received capital punishment."
2009: It's Pollard's 25th year behind bars.
2010: 39 Members of congress urge Barack Obama to commute Pollard's sentence. Pollard still not recognized as a shavui. In prison, he reportedly hangs out with fellow inmates Bernie Madoff and Carmine Persico. Pollard issues a request for clemency from Obama. It's not accepted .
2011: Pollard's father dies; he's denied a request to attend the funeral. He later ends up in a hospital. Left-leaning Haaretz writes an editorial urging Obama to release him.
2013: Obama visits Israel, tells Israel's Channel 2 that he will review the case.
"He's been serving his time [...] I have no plans for releasing Jonathan Pollard immediately but what I am going to be doing is to make sure that he, like every other American who's been sentenced, is accorded the same kinds of review and the same examination of the equities that any other individual would provide," Obama said .
Obama announces clemency for 8 nonviolent drug offenders with life sentences, the first time he has used the presidential authority in his two terms in office.
2014: Pollard is eligible for parole after 30 years in prison. His request for parole is denied.
2015: Obama announces dozens of additional clemencies for nonviolent drug offenders. White House reaches a final deal with Iran on its nuclear program. Israel strongly opposes the deal. In July, news of possible release leaks to the press. The White House states that Iran will not be a factor in Pollard's parole petition. On Tuesday, July 28th, Pollard's lawyer confirms that a federal panel has granted the prisoner parole. He will be released in no later than November, the WSJ reports.
© 2023 Latin Times. All rights reserved. Do not reproduce without permission.