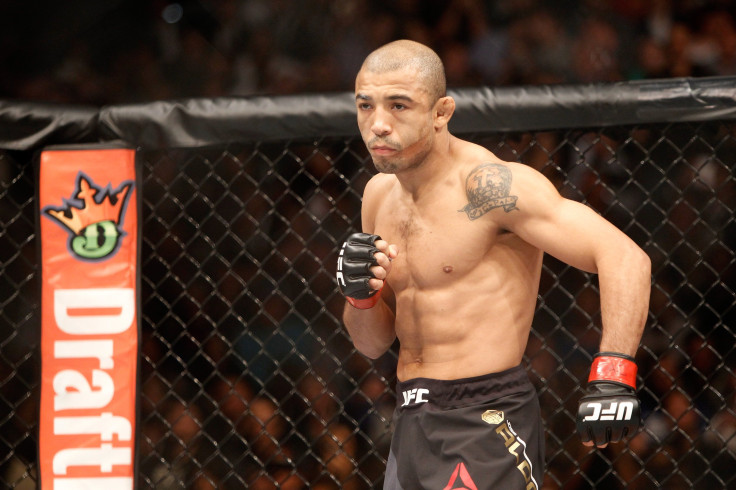 Jose Aldo still isn't over that shocking and humiliating loss to Conor McGregor at UFC 194. In December of last year McGregor and Aldo met in one of the most highly anticipated UFC matches of the year, but it failed to lived up to the hype. McGregor knockout Aldo out in just 13 second to claim the UFC Featherweight Championship.
Now, almost a year later, Aldo wants another shot.
"It's not my fault that he's a coward. He was never the champion," said Aldo. The 30-year-old Brazilian fighter went on to say "I knew for certain that this would happen. In my opinion, I never stopped being the champion. I lost that fight because of an accident."
Although McGregor defeated Aldo, he was forced to vacate his UFC Featherweight title back to Aldo because he is also the UFC Lightweight Champion and he chose to focus on that division. Aldo successfully beat Frankie Edgar in his last fight via unanimous decision in his only 2016 bout. McGregor beat Eddie Alvarez by knockout in his last match at UFC 205.
Aldo knows that McGregor is focusing primarily on the lightweight division for the time being, and he said that he is willing to move up a weight class in order to fight the Irish champion. "It's logical that I give a lot of thought to that rematch, and it's a certainty that it will happen. But I want to defend my [featherweight] belt first. Then I can start preparing to face McGregor [at lightweight]," Aldo said.
In all likelihood, given the circumstances of weight classes and how often each of these two fight, the earliest we could (potentially) see them in the ring again going at it is the Summer of 2017 at best.
© 2023 Latin Times. All rights reserved. Do not reproduce without permission.